Podcaster: Host : Fraser Cain ; Guest: Dr. Katie Mack, Beth Johnson, Allen Versveld, Veranika (Nika) Kilmovich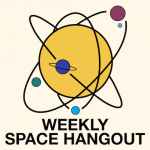 Title: Weekly Space Hangout –  Dr. Katie Mack – The End of Everything
Link: Cosmoquest: http://cosmoquest.org
Description: Today's story:
New NASA SRB booster test.
Torn planetary rings in a triple star system.
A gigantic search for aliens.
Host: Fraser Cain ( @fcain )
Special Guest: 
For tonight's season premiere, we are excited to welcome Astrophysicist Dr. Katie Mack to the show. Katie has just released her first book, "The End of Everything (Astrophysically Speaking)", in which she takes readers on a "tour of five universe-ending possibilities proposed by cosmologists, narrating each with a wit and humor that will—almost—make you forget about what the end times means for us."
Katie is a theoretical astrophysicist exploring a range of questions in cosmology, the study of the universe from beginning to end. She currently holds the position of Assistant Professor of Physics at North Carolina State University, where she is also a member of the Leadership in Public Science Cluster.
Throughout her career she has studied dark matter, the early universe, galaxy formation, black holes, cosmic strings, and the ultimate fate of the cosmos. Alongside her academic research, she is an internationally recognized writer and communicator. She has been published in a number of popular outlets such as Scientific American, Slate, Sky & Telescope, and Cosmos Magazine, where she is a columnist, and she has recently been named a TED2020 Fellow.
To learn more about Katie, visit her personal website http://www.astrokatie.com and you can find her on Twitter as @AstroKatie.
For more information about The End of Everything (Astrophysically Speaking), including how to order your own copy, visit http://www.astrokatie.com/book
Regular Guest:
Today's sponsor: Big thanks to our Patreon supporters this month: David Bowes, Dustin A Ruoff, Brett Duane, Kim Hay, Nik Whitehead, Timo Sievänen, Michael Freedman, Paul Fischer, Rani Bush, Karl Bewley, Joko Danar, Steven Emert, Frank Tippin, Steven Jansen, Barbara Geier, Don Swartwout, James K. Wood, Katrina Ince, Michael Lewinger, Phyllis Simon Foster, Nicolo DePierro, Tim Smith.
Please consider sponsoring a day or two. Just click on the "Donate" button on the lower left side of this webpage, or contact us at signup@365daysofastronomy.org.
Or please visit our Patreon page: https://www.patreon.com/365DaysOfAstronomy
End of podcast:
365 Days of Astronomy
=====================
The 365 Days of Astronomy Podcast is produced by Planetary Science Institute. Audio post-production by Richard Drumm. Bandwidth donated by libsyn.com and wizzard media. You may reproduce and distribute this audio for non-commercial purposes.
This show is made possible thanks to the generous donations of people like you! Please consider supporting to our show on Patreon.com/365DaysofAstronomy and get access to bonus content.
After 10 years, the 365 Days of Astronomy podcast is poised to enter its second decade of sharing important milestone in space exploration and astronomy discoveries. Join us and share your story. Until tomorrow! Goodbye!