Podcaster: Host : Fraser Cain ; Guest: Elizabeth Howell, Nicholas Booth, Dave Dickinson, Pam Hoffman, Michael Rodruck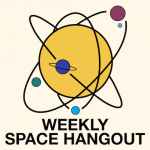 Title: Weekly Space Hangout – Dana Backman, Director of NASA Airborne Astronomy Ambassadors
Link: Cosmoquest: http://cosmoquest.org
Description: Today's story:
Either the heaviest neutron star or the lightest black hole.
2 conjunctions, a lunar eclipse & a free book! pam@everydayspacer.com
Mars launches in July!
Comets grace our nighttime sky!
Another StarShip (Serial Number 7) explodes. On purpose.
Host: Fraser Cain ( @fcain )
Special Guest: This week we are airing Fraser's pre-recorded interview with Elizabeth Howell ( @howellspace ) and Nicholas Booth (who couldn't make it to the interview), co-authors of the new book The Search for Life on Mars: The Greatest Scientific Detective Story of All Time. Their book documents our quest to find life on the Red Planet. Long-time viewers of the WSH will remember Elizabeth as one of our regular contributors from several years ago.
Elizabeth Howell, PhD, is one of the few people who has lived on a simulated Mars base. An award-winning journalist, she regularly contributes to Space.com, Forbes, and SkyNews. She witnessed five human space launches — three from Florida and two from Kazakhstan. She also pretended to be a Red Planet astronaut in 2014, on Crew 133 of the Mars Society's Mars Desert Research Station in Utah. Elizabeth holds an undergraduate degree in journalism from Carleton University and two postgraduate degrees in space studies from the University of North Dakota. She lives with her husband in Ottawa, Canada.
Nicholas Booth worked for Astronomy Now magazine, wrote about science for British newspapers, and was a technology editor on The Times (London). He is the author of true-life detective stories about spies and fraudsters, including Zigzag: The Incredible Wartime Exploits of Double Agent Eddie Chapman, published by Arcade, and The Thieves of Threadneedle Street. He lives in Cheshire, England, with his wife and their two cats.
You can find out more information about The Search for Life on Mars on the Simon and Schuster website: https://www.simonandschuster.com/books/The-Search-for-Life-on-Mars/Elizabeth-Howell/9781950691395
Regular Guest:
Today's sponsor: Big thanks to our Patreon supporters this month: David Bowes, Dustin A Ruoff, Brett Duane, Kim Hay, Nik Whitehead, Timo Sievänen, Michael Freedman, Paul Fischer, Rani Bush, Karl Bewley, Joko Danar, Steven Emert, Frank Tippin, Steven Jansen, Barbara Geier, Don Swartwout, James K. Wood, Katrina Ince, Michael Lewinger, Phyllis Simon Foster, Nicolo DePierro, Tim Smith.
Please consider sponsoring a day or two. Just click on the "Donate" button on the lower left side of this webpage, or contact us at signup@365daysofastronomy.org.
Or please visit our Patreon page: https://www.patreon.com/365DaysOfAstronomy
End of podcast:
365 Days of Astronomy
=====================
The 365 Days of Astronomy Podcast is produced by Planetary Science Institute. Audio post-production by Richard Drumm. Bandwidth donated by libsyn.com and wizzard media. You may reproduce and distribute this audio for non-commercial purposes.
This show is made possible thanks to the generous donations of people like you! Please consider supporting to our show on Patreon.com/365DaysofAstronomy and get access to bonus content.
After 10 years, the 365 Days of Astronomy podcast is poised to enter its second decade of sharing important milestone in space exploration and astronomy discoveries. Join us and share your story. Until tomorrow! Goodbye!