Podcaster: Host : Fraser Cain ; Guest: Col. Mike Mullane, Dave Dickinson, & Veranika (Nika) Klimovich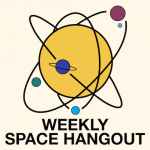 Title: Weekly Space Hangout – Guest: Col. Mike Mullane, Astronaut
Link: Cosmoquest: http://cosmoquest.org
You can watch the video in:
Description: Today's story:
Major takeaways from the space mining summit.
BepiColombo's Earth flyby.
Starlink DarkSat update.
OneWeb declares bankruptcy.
Bizarre orbits for exoplanets around binary stars.
Host: Fraser Cain ( @fcain )
Special Guest:
This week we are excited to welcome Colonel Mike Mullane to the Weekly Space Hangout. Mike was selected as a Mission Specialist in 1978 in the first group of Space Shuttle Astronauts. He completed three space missions aboard the Shuttles Discovery (STS-41D) and Atlantis (STS-27 & 36) before retiring from NASA and the Air Force in 1990.
Mike grew up during the space race and in the late 1950's embarked on his own rocket experiments in the deserts near his home. In 1967, he graduated from West Point and was commissioned in the United States Air Force. As a Weapon Systems Operator aboard RF-4C Phantom aircraft, he completed 134 combat missions in Vietnam.
Mike holds a Master's of Science Degree in Aeronautical Engineering from the Air Force Institute of Technology and is also a graduate of the Air Force Flight Test Engineer School at Edwards Air Force Base, California.
Mike was inducted into the International Space Hall of Fame and is the recipient of many awards, including the Air Force Distinguished Flying Cross, Legion of Merit, and the NASA Space Flight Medal.
Since retiring from NASA, Colonel Mullane has written an award-winning children's book, "Liftoff! An Astronaut's Dream", and a popular space-fact book, "Do Your Ears Pop In Space?" His memoir, "Riding Rockets: The Outrageous Tales of a Space Shuttle Astronaut", has been reviewed in the New York Times and on the Daily Show with Jon Stewart. It was also featured on Barnes and Noble's 2010 recommended summer reading list.
Mike has held a lifelong passion for mountain climbing, averaging nearly 500 miles per year of backpacking in the mountains of the West. Since age 60 he has summited Africa's highest peak, Mt. Kilimanjaro; the glaciered peak of Mt. Rainier; and forty of Colorado's 14,000-foot peaks.
You can learn more about Mike by visiting his website at https://mikemullane.com/
Regular Guest:
Dave Dickinson ( http://astroguyz.com/ & @Astroguyz )
Veranika (Nika) Klimovich ( @veranikaspace / Pictame: @nika_klim )
Today's sponsor: Big thanks to our Patreon supporters this month: Dustin A Ruoff, Brett Duane, Kim Hay, Nik Whitehead, Timo Sievänen, Michael Freedman, Paul Fischer, Rani Bush, Karl Bewley, Joko Danar, Steven Emert, Frank Tippin, Steven Jansen, Barbara Geier, Don Swartwout, James K. Wood, Katrina Ince, Michael Lewinger, Phyllis Simon Foster, Nicolo DePierro.
Please consider sponsoring a day or two. Just click on the "Donate" button on the lower left side of this webpage, or contact us at signup@365daysofastronomy.org.
Or please visit our Patreon page: https://www.patreon.com/365DaysOfAstronomy
End of podcast:
365 Days of Astronomy
=====================
The 365 Days of Astronomy Podcast is produced by Planetary Science Institute. Audio post-production by Richard Drumm. Bandwidth donated by libsyn.com and wizzard media. You may reproduce and distribute this audio for non-commercial purposes.
This show is made possible thanks to the generous donations of people like you! Please consider supporting to our show on Patreon.com/365DaysofAstronomy and get access to bonus content.
After 10 years, the 365 Days of Astronomy podcast is poised to enter its second decade of sharing important milestone in space exploration and astronomy discoveries. Join us and share your story. Until tomorrow! Goodbye!