Podcaster: Host : Fraser Cain ; Guest: John Thornton, Dr. Brian Koberlein, C.C. Petersen, & Michael Rodruck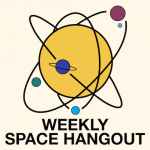 Title: Weekly Space Hangout –  Guest: John Thornton, CEO of Astrobotic
Link: Cosmoquest: http://cosmoquest.org
You can watch the video in:
Description: Today's story:
StarLink update.
SETI at the VLA.
NGC 4546 studied in detail.
Flammable ice.
Host: Fraser Cain ( @fcain )
Special Guest:
Tonight we are airing Fraser's interview with John Thornton, CEO of Astrobotic Technology. John earned his Master of Arts and Bachelor of Science degrees in Mechanical Engineering from Carnegie Mellon University. While at Carnegie Mellon, John led the build of Scarab, a NASA concept robot for lunar drilling, and the first robot to carry a prototype of NASA's RESOLVE payload. He also founded Carnegie Mellon's Advanced Composites Lab, a research, training, design, and manufacturing lab specializing in high performance, lightweight composites for robotics.
Astrobotic Technology, headquartered in Pittsburgh, PA, was spun out of Carnegie Mellon University's Robotics Institute in 2007. Astrobotics is a lunar logistics company that delivers payloads to the Moon by accommodating multiple customers on a single flight. It is a partner with NASA through a Space Act Agreement under the Lunar CATALYST program, and has 22 prior and ongoing NASA contracts. The company has 10 payload delivery deals in place for its first mission and dozens of customer negotiations for upcoming missions.
Additionally, Astrobotic is developing advanced space robotics capabilities such as terrain relative navigation, mobile robotics for lunar surface operations, and reliable computing systems for mission-critical applications.
To learn more about Astrobotics and their projects, visit their website at https://www.astrobotic.com/.
Regular Guest:
Dr. Brian Koberlein ( https://briankoberlein.com/ & @BrianKoberlein )
C.C. Petersen ( http://thespacewriter.com/wp/ & @AstroUniverse )
Michael Rodruck ( https://sites.psu.edu/mrodruck/ / @MichaelRodruck )
Today's sponsor: Big thanks to our Patreon supporters this month: Dustin A Ruoff, Brett Duane, Kim Hay, Nik Whitehead, Timo Sievänen, Michael Freedman, Paul Fischer, Rani Bush, Karl Bewley, Joko Danar, Steven Emert, Frank Tippin, Steven Jansen, Barbara Geier, Don Swartwout, James K. Wood, Katrina Ince, Michael Lewinger, Phyllis Simon Foster, Nicolo DePierro.
Please consider sponsoring a day or two. Just click on the "Donate" button on the lower left side of this webpage, or contact us at signup@365daysofastronomy.org.
Or please visit our Patreon page: https://www.patreon.com/365DaysOfAstronomy
End of podcast:
365 Days of Astronomy
=====================
The 365 Days of Astronomy Podcast is produced by Planetary Science Institute. Audio post-production by Richard Drumm. Bandwidth donated by libsyn.com and wizzard media. You may reproduce and distribute this audio for non-commercial purposes.
This show is made possible thanks to the generous donations of people like you! Please consider supporting to our show on Patreon.com/365DaysofAstronomy and get access to bonus content.
After 10 years, the 365 Days of Astronomy podcast is poised to enter its second decade of sharing important milestone in space exploration and astronomy discoveries. Join us and share your story. Until tomorrow! Goodbye!