Podcaster: Host : Fraser Cain ; Guest: Dr. Cole Miller, Dr. Morgan Rehnberg, & Alex Teachey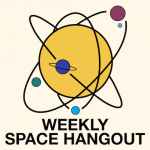 Title: Weekly Space Hangout – Guest: Cole Miller
Link: Cosmoquest: http://cosmoquest.org
You can watch the video in:
Description: Today's story:
The search for exomoons.
The launch of Solar Orbiter.
The new White House NASA budget.
Boeing StarLiner problems
SpaceX nabs a new executive from NASA.
CHEOPS first light.
Host: Fraser Cain ( @fcain )
Special Guest: This week we are airing Fraser's interview with Dr. Cole Miller, Professor of Astronomy at the University of Maryland, College Park. Dr. Miller led one of two separate teams that analyzed Neutron star Interior Composition Explorer (NICER) data – specifically that for pulsar called J0030+0451 (J0030) in the constellation Pisces – and were able to map the surface features of a pulsar for the first time.
Dr. Miller's research focuses on the theory and modelling of high-energy radiation from neutron stars and black holes. Data interpreted using his theoretical models have provided the first evidence for the existence of an innermost stable circular orbit around neutron stars and black holes (a key prediction of strong-gravity general relativity) and evidence for a 2.3 solar mass neutron star, which constrains strongly the equation of state of matter at high densities.
Cole's research interests extend beyond compact objects to subjects such as the use of gravitational lensing to study different classes of cosmological sources. He has used lensing to place limits on the average redshift of gamma-ray bursts and to constrain dark energy parameters based on observations in the Hubble Deep Field. He has also investigated the effects of accretion by primordial compact objects on the power spectrum of the cosmic microwave background. In particular, he has placed limits on the contributions of such objects to dark matter and on the degree to which ionization from accretion can be used to explain the weakness of the second acoustic peak as observed with BOOMERanG. Most recently, he has collaborated with Doug Hamilton on models of intermediate-mass black holes and their implications for gravitational radiation.
Regular Guest:
Dr. Morgan Rehnberg (http://morganrehnberg.com/ & @MorganRehnberg)
Alex Teachey ( https://alexteachey.wordpress.com/ & @alexteachey )
Today's sponsor: Big thanks to our Patreon supporters this month: Dustin A Ruoff, Brett Duane, Kim Hay, Nik Whitehead, Timo Sievänen, Michael Freedman, Paul Fischer, Rani Bush, Karl Bewley, Joko Danar, Steven Emert, Frank Tippin, Steven Jansen, Barbara Geier, Don Swartwout, James K. Wood, Katrina Ince, Michael Lewinger, Phyllis Simon Foster, Nicolo DePierro.
Please consider sponsoring a day or two. Just click on the "Donate" button on the lower left side of this webpage, or contact us at signup@365daysofastronomy.org.
Or please visit our Patreon page: https://www.patreon.com/365DaysOfAstronomy
End of podcast:
365 Days of Astronomy
=====================
The 365 Days of Astronomy Podcast is produced by Planetary Science Institute. Audio post-production by Richard Drumm. Bandwidth donated by libsyn.com and wizzard media. You may reproduce and distribute this audio for non-commercial purposes.
This show is made possible thanks to the generous donations of people like you! Please consider supporting to our show on Patreon.com/365DaysofAstronomy and get access to bonus content.
After 10 years, the 365 Days of Astronomy podcast is poised to enter its second decade of sharing important milestone in space exploration and astronomy discoveries. Join us and share your story. Until tomorrow! Goodbye!