Podcaster: Dr Jacinta Delhaize and Dr Daniel Cunnama ; Guest: Dr. Jeff Wagg & Ahmed Elagali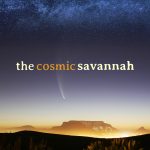 Title: The Cosmic Savannah Ep. 13: The South African Astronomical Observatory
Link : www.thecosmicsavannah.com
@cosmicsavannah (twitter, facebook & instagram)
Description:
In our final episode for Season 1, we are joined by Professor Petri Vaisanen, Director of the South African Astronomical Observatory (SAAO).
Petri discusses the path to his current role including his research on galaxy evolution and some of the exciting discoveries along the way.
Petri also explains his current role, his vision for astronomy in South Africa, and some of the exciting developments occurring at SAAO and around the world!
We are then joined by Allen Versfeld who runs the Urban Astronomer podcast and who does an excellent job of highlighting the astronomy in South Africa. You can find the Urban Astronomer podcast at https://www.urban-astronomer.com or https://cosmoquest.org/x/365daysofastronomy/author/allenversfeld/
Bio: Dr Jacinta Delhaize and Dr Daniel Cunnama are astronomers based in Cape Town, South Africa. Jacinta is a Research Fellow at the University of Cape Town. She spends her time using huge radio telescopes to study gas and black holes in distant galaxies. Daniel is the Science Engagement Astronomer at the South African Astronomical Observatory. He likes to use large supercomputers to create simulations of galaxies. Both Jacinta and Daniel love to promote the incredible astronomy happening across the African continent.
Today's sponsor: Big thanks to our Patreon supporters this month: Dustin A Ruoff, Brett Duane, Kim Hay, Nik Whitehead, Timo Sievänen, Michael Freedman, Paul Fischer, Rani Bush, Karl Bewley, Joko Danar, Steven Emert, Frank Tippin, Steven Jansen, Barbara Geier, Don Swartwout, James K. Wood, Katrina Ince, Michael Lewinger, Phyllis Simon Foster, Nicolo DePierro.
Please consider sponsoring a day or two. Just click on the "Donate" button on the lower left side of this webpage, or contact us at signup@365daysofastronomy.org.
Please visit our Patreon page: https://www.patreon.com/365DaysOfAstronomy
or you can consider to sponsor a day of our podcast : https://cosmoquest.org/x/365daysofastronomy/product/sponsor-an-episode-of-365-days-of-astronomy/
End of podcast:
365 Days of Astronomy
=====================
The 365 Days of Astronomy Podcast is produced by Planetary Science Institute. Audio post-production by Richard Drumm. Bandwidth donated by libsyn.com and wizzard media. You may reproduce and distribute this audio for non-commercial purposes.
This show is made possible thanks to the generous donations of people like you! Please consider supporting to our show on Patreon.com/365DaysofAstronomy and get access to bonus content.
After 10 years, the 365 Days of Astronomy podcast is entering its second decade of sharing important milestone in space exploration and astronomy discoveries. Join us and share your story. Until tomorrow! Goodbye!