Podcaster: Dr Jacinta Delhaize and Dr Daniel Cunnama ; Guest: Dr Ivy Wong, Dr Brenda Namumba and Professor Peter Quinn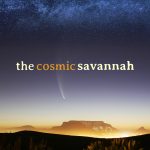 Title: The Cosmic Savannah Ep. 11: A Trip Down Under
Link : www.thecosmicsavannah.com
@cosmicsavannah (twitter, facebook & instagram)
Description:
Jacinta takes us on a tour of her homeland, into the Australian bush, and chats about pathfinders, precursors and the exciting collaborations between South Africa and Australia!
Precursor telescopes like the South African MeerKAT and HERA (Hydrogen Epoch of Reionisation Array), along with the Murchison Widefield Array (MWA) and Australian SKA Pathfinder (ASKAP) are providing SKA scientists with invaluable knowledge to assist in the design of the SKA's main telescopes over the coming decade.
Pathfinder telescopes and systems, such as the now-retired KAT-7 (Karoo Array Telescope) are dotted around the globe and are also engaged in SKA related technology and science studies.
First, we hear from Dr Ivy Wong, a researcher at the International Centre for Radio Astronomy Research (ICRAR) in Perth, about large surveys of neutral hydrogen gas in galaxies and the results shared at the 12th PHISCC (Pathfinders HI Science Coordination Committee) Conference.
Neutral Hydrogen atoms produce radio emission at a wavelength of 21cm or a frequency of 1420 MHz. This emission is commonly referred to as HI and it is the raw fuel of star formation.
We are then joined by newly capped Dr Brenda Namumba from the University of Cape Town. She tells us about her exciting work using the pathfinder to MeerKAT, the KAT-7 telescope.
Finally, Jacinta sits down with Professor Peter Quinn, the Director of ICRAR. They chat about the the incredible growth of radio astronomy in both South Africa and Australia over the recent years, and the enormous collaboration opportunities the SKA is creating between the two countries!

Bio: Dr Jacinta Delhaize and Dr Daniel Cunnama are astronomers based in Cape Town, South Africa. Jacinta is a Research Fellow at the University of Cape Town. She spends her time using huge radio telescopes to study gas and black holes in distant galaxies. Daniel is the Science Engagement Astronomer at the South African Astronomical Observatory. He likes to use large supercomputers to create simulations of galaxies. Both Jacinta and Daniel love to promote the incredible astronomy happening across the African continent.
Today's sponsor:  Big thanks to our Patreon supporters this month: Dustin A Ruoff, Brett Duane, Kim Hay, Nik Whitehead, Timo Sievänen, Michael Freedman, Paul Fischer, Rani Bush, Karl Bewley, Joko Danar, Steven Emert, Frank Tippin, Steven Jansen, Barbara Geier, Don Swartwout, James K. Wood, Katrina Ince, Michael Lewinger, Phyllis Simon Foster, Nicolo DePierro.
Please consider sponsoring a day or two. Just click on the "Donate" button on the lower left side of this webpage, or contact us at signup@365daysofastronomy.org.
Please visit our Patreon page: https://www.patreon.com/365DaysOfAstronomy
or you can consider to sponsor a day of our podcast : https://cosmoquest.org/x/365daysofastronomy/product/sponsor-an-episode-of-365-days-of-astronomy/
End of podcast:
365 Days of Astronomy
=====================
The 365 Days of Astronomy Podcast is produced by Planetary Science Institute. Audio post-production by Richard Drumm. Bandwidth donated by libsyn.com and wizzard media. You may reproduce and distribute this audio for non-commercial purposes. Please consider supporting the podcast with a few dollars (or Euros!). Visit us on the web at 365DaysOfAstronomy.org or email us at info@365DaysOfAstronomy.org. This year we will celebrates the Year of Everyday Astronomers as we embrace Amateur Astronomer contributions and the importance of citizen science. Join us and share your story. Until tomorrow! Goodbye!