Podcaster: Host : Dr. Morgan Rehnberg ; Guest: Dr. Brian Weeden , Fraser Cain, Suzy Murph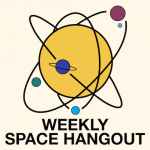 Title: Weekly Space Hangout – Guest: Dr. Brian Weeden from the Secure World Foundation
Link: Cosmoquest: http://cosmoquest.org
You can watch the video in:
Description: Today's story:
Fraser's report on StarLink, AAS & the 4 New Great Observatories!
Volcanoes on Venus.
A medical emergency on the ISS.
TESS has found a new Earth-sized planet in the habitable zone.
StarLiner news.
Host: Dr. Morgan Rehnberg (http://cosmicchatter.org/ & @MorganRehnberg )
Special Guest:
Dr. Brian Weeden, Director of Program Planning at the Secure World Foundation. Brian uses his research on space debris, global space situational awareness, space traffic management, protection of space assets, and space governance to guide the Foundation's future projects. Additionally, Brian organizes national and international workshops to increase awareness of, and facilitate dialogue on, space security, stability, and sustainability topics.
Prior to joining the Secure World Foundation, Brian served nine years as an officer in the United States Air Force where he worked in space and intercontinental ballistic missile (ICBM) operations. As part of U.S. Strategic Command's Joint Space Operations Center (JSpOC), he directed the orbital analyst training program and developed tactics, techniques and procedures for improving space situational awareness.
Brian holds a Bachelor of Science Degree in Electrical Engineering from Clarkson University, a Master of Science Degree in Space Studies from the University of North Dakota, and is also a graduate of the International Space University Space Studies Program. He has a PhD in Public Policy and Public Administration from George Washington University in the field of Science and Technology Policy.
You can learn more about the Secure World Foundation by visiting their website athttps://swfound.org/about-us/who-we-are/
Regular Guest:
Fraser Cain ( @fcain )
Suzy Murph ( @cosmoquestX )
Today's sponsor: Big thanks to our Patreon supporters this month: Dustin A Ruoff, Brett Duane, Kim Hay, Nik Whitehead, Timo Sievänen, Michael Freedman, Paul Fischer, Rani Bush, Karl Bewley, Joko Danar, Steven Emert, Frank Tippin, Steven Jansen, Barbara Geier, Don Swartwout, James K. Wood, Katrina Ince, Michael Lewinger, Phyllis Simon Foster, Nicolo DePierro.
Please consider sponsoring a day or two. Just click on the "Donate" button on the lower left side of this webpage, or contact us at signup@365daysofastronomy.org.
Or please visit our Patreon page: https://www.patreon.com/365DaysOfAstronomy
End of podcast:
365 Days of Astronomy
=====================
The 365 Days of Astronomy Podcast is produced by Planetary Science Institute. Audio post-production by Richard Drumm. Bandwidth donated by libsyn.com and wizzard media. You may reproduce and distribute this audio for non-commercial purposes. Please consider supporting the podcast with a few dollars (or Euros!). Visit us on the web at 365DaysOfAstronomy.org or email us at info@365DaysOfAstronomy.org. This year we will celebrates the Year of Everyday Astronomers as we embrace Amateur Astronomer contributions and the importance of citizen science. Join us and share your story. Until tomorrow! Goodbye!