Podcaster: Host : Fraser Cain ; Guest: Anita Gale , Dr. Pamela Gay, Dr. Brian Koberlein, Pam Hoffman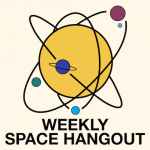 Title: Weekly Space Hangout : Guest: Anita Gale of Space Settlement Design Competitions
Link: Cosmoquest: http://cosmoquest.org
You can watch the video in:
Description: Today's story:
OSIRIS-REx sample sites have been selected.
Annular solar eclipse in Indonesia.
Ursids meteor shower, Dec 17 – 26. Peak on Dec 22
UV Auroras on Mars.
Host: Fraser Cain
Special Guest:
Special Guest: Tonight we welcome Anita Gale, retired Boeing Associate Technical Fellow with over 40 years of experience in Payload and Cargo Integration on crewed spacecraft, including Space Shuttle and Commercial Crew. She is currently an elected member of the National Space Society (NSS) Executive Committee.

Anita co-founded Space Settlement Design Competitions which give high school students on six continents the experience of working on an aerospace industry proposal team to design and sell a space settlement in the context of "future history."
Regular Guest:
Dr. Pamela Gay ( https://cosmoquest.org/x/ & @starstryder )
Dr. Brian Koberlein ( https://briankoberlein.com/ & @BrianKoberlein )
Pam Hoffman ( http://everydayspacer.com/ & @EverydaySpacer )
Today's sponsor: Big thanks to our Patreon supporters this month: Dustin A Ruoff, Frank Tippin, Brett Duane, Jako Danar, Joseph J. Biernat, Nik Whitehead, Timo Sievänen, Steven Jansen, Casey Carlile, Phyllis Simon Foster, Tanya Davis, Rani B, Lance Vinsel, Steven Emert, Barbara Geier
Please consider sponsoring a day or two. Just click on the "Donate" button on the lower left side of this webpage, or contact us at signup@365daysofastronomy.org.
Or please visit our Patreon page: https://www.patreon.com/365DaysOfAstronomy
End of podcast:
365 Days of Astronomy
=====================
The 365 Days of Astronomy Podcast is produced by Planetary Science Institute. Audio post-production by Richard Drumm. Bandwidth donated by libsyn.com and wizzard media. You may reproduce and distribute this audio for non-commercial purposes. Please consider supporting the podcast with a few dollars (or Euros!). Visit us on the web at 365DaysOfAstronomy.org or email us at info@365DaysOfAstronomy.org. This year we will celebrates the Year of Everyday Astronomers as we embrace Amateur Astronomer contributions and the importance of citizen science. Join us and share your story. Until tomorrow! Goodbye!