Podcaster: Rob Sparks and Dr. Meg Scwhamb
Title: Comet Borisov Imaged By Gemini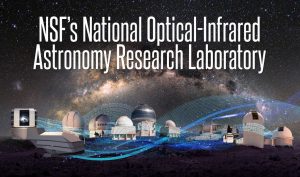 Organization: National Optical-Infrared Astronomy Research Laboratory
Links: www.noao.edu ; @NOAONorth; http://www.lsst.org/
Description: Comet Borisov is the second small object discovered as it passes through our solar system. Studying these interstellar visitors can tell us about where they originated and the similarities and differences they hold with our own solar system. Recently the Gemini Observatory imaged Comet Borisov. In this podcast, Dr. Meg Scwhamb discusses Comet Borisov and the recent imaging campaing. 
Bio: Rob Sparks is a science education specialist in the Education and Public Outreach (EPO) group at the National Optical Astronomy Observatory (NOAO) and works on the Galileoscope project (www.galileoscope.org), providing design, dissemination and professional development. He blogs at halfastro.wordpress.com.
Dr. Meg Schwamb is currently a lecturer (equivalent of an Assistant Professor in US/EU system) in the Astrophysics Research Centre (ARC) and the School of Mathematics and Physics at Queen's University Belfast (QUB) in the UK. She is interested in the fundamental questions of how our Solar System and others formed and evolved as well as exploring the process of planet formation. Her expertise is in big data for planetary astronomy, focusing in particular on studying the small body populations in the Solar System, exploring seasonal processes on Mars, and applying citizen science to mine large datasets for Solar System science.
End of podcast:
365 Days of Astronomy
=====================
The 365 Days of Astronomy Podcast is produced by Astronomical Society of the Pacific. Audio post-production by Richard Drumm. Bandwidth donated by libsyn.com and wizzard media. You may reproduce and distribute this audio for non-commercial purposes. Please consider supporting the podcast with a few dollars (or Euros!). Visit us on the web at 365DaysOfAstronomy.org or email us at info@365DaysOfAstronomy.org. This year we will celebrates the Year of Everyday Astronomers as we embrace Amateur Astronomer contributions and the importance of citizen science. Join us and share your story. Until tomorrow! Goodbye!