Podcaster:  Dr Jacinta Delhaize and Dr Daniel Cunnama ; Guest: Nicole Thomas and Dr Nathan Deg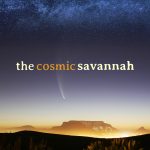 Title: The Cosmic Savannah Ep. 9: Simulating the Universe part 2
Link : www.thecosmicsavannah.com
@cosmicsavannah (twitter, facebook & instagram)
Description:
We continue our discussion from Episode 8 on simulating the Universe, this week focusing on the simulation of actual galaxies.
Nicole explains the SIMBA suite of simulations she is working on. SIMBA is a set of simulations which look at how the super-massive black holes at the centre of galaxies affect the galaxy they live in. She also talks about her experience growing up and studying in Cape Town, and some of the challenges she's faced.
Nathan chats with us about his work creating individual galaxies within a computer using a new code he has just published. Using this we can learn more about how galaxies change over time and interact with their environments.
Bio: Dr Jacinta Delhaize and Dr Daniel Cunnama are astronomers based in Cape Town, South Africa. Jacinta is a Research Fellow at the University of Cape Town. She spends her time using huge radio telescopes to study gas and black holes in distant galaxies. Daniel is the Science Engagement Astronomer at the South African Astronomical Observatory. He likes to use large supercomputers to create simulations of galaxies. Both Jacinta and Daniel love to promote the incredible astronomy happening across the African continent.
Today's sponsor: Big thanks to our Patreon supporters this month: Frank Tippin, Brett Duane, Jako Danar, Joseph J. Biernat, Nik Whitehead, Timo Sievänen, Steven Jansen, Casey Carlile, Phyllis Simon Foster, Tanya Davis, Rani B, Lance Vinsel, Steven Emert.
Please consider sponsoring a day or two. Just click on the "Donate" button on the lower left side of this webpage, or contact us at signup@365daysofastronomy.org.
Please visit our Patreon page: https://www.patreon.com/365DaysOfAstronomy
or you can consider to sponsor a day of our podcast : https://cosmoquest.org/x/365daysofastronomy/product/sponsor-an-episode-of-365-days-of-astronomy/
End of podcast:
365 Days of Astronomy
=====================
The 365 Days of Astronomy Podcast is produced by Planetary Science Institute. Audio post-production by Richard Drumm. Bandwidth donated by libsyn.com and wizzard media. You may reproduce and distribute this audio for non-commercial purposes. Please consider supporting the podcast with a few dollars (or Euros!). Visit us on the web at 365DaysOfAstronomy.org or email us at info@365DaysOfAstronomy.org. This year we will celebrates the Year of Everyday Astronomers as we embrace Amateur Astronomer contributions and the importance of citizen science. Join us and share your story. Until tomorrow! Goodbye!