Podcaster: Host : Fraser Cain ; Guest: Dylan O'Donnell, Dr. Kimberly Cartier, Allen Versfeld, Veranika (Nika) Klimovich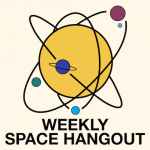 Title: Weekly Space Hangout :  Discussion with Dylan O'Donnell, Director of DNA Digital
Link: Cosmoquest: http://cosmoquest.org
You can watch the video in:
Description: Today's story:
Comet Borisov getting close to Earth.
ESA budget council.
Planets around an SMBH.
BHs triggering star formation.
Host: Fraser Cain
Special Guest: Tonight we are excited to welcome amateur astronomer and astrophotographer extraordinaire Dylan O'Donnell to the WSH. Dylan is an Australian web developer, the Director of DNA Digital and zen10 Australia, and a Public Science Communicator. Dylan has a Masters of Information Technology and his astrophotography been featured by NASA and ESA, and to date, two of his images have been selected for NASA Astronomy Photo of the Day (APOD).
In April of 2019, Dylan was a featured speaker at the NorthEast Astronomy Forum (NEAF) in New York. You can watch his presentation, A Tour of the Southern Sky, on YouTube here: https://youtu.be/Ba-0FGnLqmI
Dylan was our guest on Open Space in September, 2019, and you can see that episode here: https://youtu.be/PUwH9WOz4w4
You can view Dylan's online portfolio of stunning photography, most of which is Public Domain/Creative Commons, which includes Landscapes, Architecture, Portraits, Astrophotography (of course!), and MORE, on his website: http://deography.com/
Regular Guest:
Dr. Kimberly Cartier ( http://KimberlyCartier.org & @AstroKimCartier )
Allen Versfeld ( http://www.urban-astronomer.com / @uastronomer )
Veranika (Nika) Klimovich ( @veranikaspace / Pictame: @nika_klim )
Today's sponsor: Big thanks to our Patreon supporters this month: Dustin A Ruoff, Frank Tippin, Brett Duane, Jako Danar, Joseph J. Biernat, Nik Whitehead, Timo Sievänen, Steven Jansen, Casey Carlile, Phyllis Simon Foster, Tanya Davis, Rani B, Lance Vinsel, Steven Emert, Barbara Geier
Please consider sponsoring a day or two. Just click on the "Donate" button on the lower left side of this webpage, or contact us at signup@365daysofastronomy.org.
Or please visit our Patreon page: https://www.patreon.com/365DaysOfAstronomy
End of podcast:
365 Days of Astronomy
=====================
The 365 Days of Astronomy Podcast is produced by Planetary Science Institute. Audio post-production by Richard Drumm. Bandwidth donated by libsyn.com and wizzard media. You may reproduce and distribute this audio for non-commercial purposes. Please consider supporting the podcast with a few dollars (or Euros!). Visit us on the web at 365DaysOfAstronomy.org or email us at info@365DaysOfAstronomy.org. This year we will celebrates the Year of Everyday Astronomers as we embrace Amateur Astronomer contributions and the importance of citizen science. Join us and share your story. Until tomorrow! Goodbye!