Podcaster: Host : Fraser Cain ; Guest : Evelyn MacDonald , Dr. Brian Koberlein, Michael Rodruck, & Beth Johnson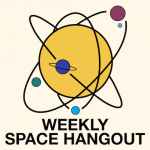 Title: Weekly Space Hangout : Guest: Evelyn MacDonald who Discusses Finding Earth-Like Planets
Link: Cosmoquest: http://cosmoquest.org
You can watch the video in:
Description: Today's story:
Is Sag A* hiding a wormhole?
The crisis in cosmology.
The smallest dwarf planet yet!
Host: Fraser Cain
Special Guest:
Tonight we welcome Evelyn MacDonald to the show in a PRERECORDED INTERVIEW with Fraser during which she discusses her thesis-turned-published-journal-article, something which rarely occurs.
Evelyn MacDonald is a recent Physics graduate from McGill University. For her thesis, she mapped the Earth's transit spectrum using data from the Atmospheric Chemistry Experiment (ACE). Using the Earth's spectrum as a "fingerprint" of sorts, Evelyn theorized that transit spectra of Earth-like exoplanets orbiting smaller stars could then be modeled as they would be observed by the James Webb Space Telescope. This would then allow scientists to recognize Earth-like atmospheric compositions based on the molecular features in an exoplanet's transit spectrum.
On August 28, 2019, with Evelyn listed as Lead Author and her advisor, Professor Nicolas Cowan as co-author, her thesis was published in the Monthly Notices of the Royal Astronomical Society, and can be read online here: https://academic.oup.com/mnras/article/489/1/196/5552693
You can learn more about Evelyn and her research here: https://reporter.mcgill.ca/student-project-could-help-astronomers-search-for-earth-like-planets/
Regular Guest:
Dr. Brian Koberlein ( https://briankoberlein.com/ & @BrianKoberlein )
Michael Rodruck ( https://sites.psu.edu/mrodruck/ / @MichaelRodruck )
Beth Johnson – SETI Institute ( @SETIInstitute / @planetarypan )
Today's sponsor: Big thanks to our Patreon supporters this month: Dustin A Ruoff, Frank Tippin, Brett Duane, Jako Danar, Joseph J. Biernat, Nik Whitehead, Timo Sievänen, Steven Jansen, Casey Carlile, Phyllis Simon Foster, Tanya Davis, Rani B, Lance Vinsel, Steven Emert, Barbara Geier
Please consider sponsoring a day or two. Just click on the "Donate" button on the lower left side of this webpage, or contact us at signup@365daysofastronomy.org.
Or please visit our Patreon page: https://www.patreon.com/365DaysOfAstronomy
End of podcast:
365 Days of Astronomy
=====================
The 365 Days of Astronomy Podcast is produced by Planetary Science Institute. Audio post-production by Richard Drumm. Bandwidth donated by libsyn.com and wizzard media. You may reproduce and distribute this audio for non-commercial purposes. Please consider supporting the podcast with a few dollars (or Euros!). Visit us on the web at 365DaysOfAstronomy.org or email us at info@365DaysOfAstronomy.org. This year we will celebrates the Year of Everyday Astronomers as we embrace Amateur Astronomer contributions and the importance of citizen science. Join us and share your story. Until tomorrow! Goodbye!