Podcaster: Host : Fraser Cain ; Guest : Dr. R. Aileen Yingst , Dr. Kimberly Cartier, Dave Dickinson, & Veranika (Nika) Klimovich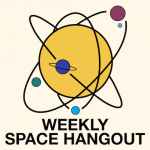 Title: Weekly Space Hangout :  Guest: Aileen Yingst, Space Geologist
Link: Cosmoquest: http://cosmoquest.org
You can watch the video in:
Description: Today's story:
Updating planetary protection.
The first all-female spacewalk.
3D printed meat on the ISS!
Did an ancient supernova force humans to walk upright?
The upcoming transit of Mercury.
Host: Fraser Cain
Special Guest: Dr. R. Aileen Yingst is a Senior Scientist at the Planetary Science Institute, a research institution headquartered in Tucson, AZ. She is Principal Investigator for the Heimdall camera system being built for a future lunar mission, and Deputy Principal Investigator for the Mars Handlens Imager instrument on the Mars Science Laboratory rover Curiosity. She is also a Co-Investigator on the newly-funded Dragonfly mission, an associate on the Dawn at Ceres mission and most recently served as Associate Principal Investigator on the Mars Exploration Rover Mission. Other missions that Dr. Yingst has worked on include Dawn at Vesta, Mars Pathfinder, Mars Polar Lander, and Galileo. Dr. Yingst served as Director of the Wisconsin Space Grant Consortium for 14 years.
Regular Guest:
Dr. Kimberly Cartier ( http://KimberlyCartier.org & @AstroKimCartier ) Dave Dickinson ( http://astroguyz.com/ & @Astroguyz )
Veranika (Nika) Klimovich ( @veranikaspace / Pictame: @nika_klim )
Today's sponsor: Big thanks to our Patreon supporters this month: Dustin A Ruoff, Frank Tippin, Brett Duane, Jako Danar, Joseph J. Biernat, Nik Whitehead, Timo Sievänen, Steven Jansen, Casey Carlile, Phyllis Simon Foster, Tanya Davis, Rani B, Lance Vinsel, Steven Emert, Barbara Geier
Please consider sponsoring a day or two. Just click on the "Donate" button on the lower left side of this webpage, or contact us at signup@365daysofastronomy.org.
Or please visit our Patreon page: https://www.patreon.com/365DaysOfAstronomy
End of podcast:
365 Days of Astronomy
=====================
The 365 Days of Astronomy Podcast is produced by Planetary Science Institute. Audio post-production by Richard Drumm. Bandwidth donated by libsyn.com and wizzard media. You may reproduce and distribute this audio for non-commercial purposes. Please consider supporting the podcast with a few dollars (or Euros!). Visit us on the web at 365DaysOfAstronomy.org or email us at info@365DaysOfAstronomy.org. This year we will celebrates the Year of Everyday Astronomers as we embrace Amateur Astronomer contributions and the importance of citizen science. Join us and share your story. Until tomorrow! Goodbye!