Podcaster: Host : Fraser Cain ; Guest : Dr. Jeffrey Kargel , Dr. Morgan Rehnberg, Moiya McTier, & Allen Versfeld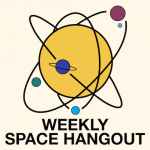 Title: Weekly Space Hangout :  Guest: Dr. Jeffrey Kargel of the PSI Talks Climate Change
Link: Cosmoquest: http://cosmoquest.org
You can watch the video in:
Description: Today's story:
The Pentagon really wants Space Force.
Insight! Drilling again!
Citizen Science project to reduce light pollution.
SpaceX wants 30,000 more StarLink cubesats!
Host: Fraser Cain
Special Guest: Dr. Jeff Kargel is a Senior Scientist at the Planetary Science Institute in Tucson, Arizona. He is a geologist, a glaciologist, and a planetary scientist. Prior to joining PSI in 2018, he worked at the University of Arizona and the U.S. Geological Survey in Flagstaff. His interests in geology started in the 4th Grade when he discovered marine fossils in the construction limestone of his front yard, and interest in planetary science began on Christmas Eve, 1968, when the Apollo 8 astronauts read, on live television from lunar orbit, the Biblical creation story. His current research is published in nearly 200 scientific articles plus over 400 abstracts about glaciers, glacial lakes, landslides, and earthquakes in the Himalaya; and ice, organic, salt, and other volatile chemistry from Mercury to Pluto, the composition and origin of Earth and other Solar System bodies, and possibilities for future mining of platinum and other resources of asteroids. His research has taken him to glaciers in ten countries around the world, and by way of spacecraft data, to glaciers on Mars. Climate change is a major thread, and that is what he is here today to talk about.
Regular Guest:
Dr. Morgan Rehnberg ( http://cosmicchatter.org/ & @MorganRehnberg )
Moiya McTier ( https://www.moiyamctier.com/ & @GoAstroMo )
Allen Versfeld ( http://www.urban-astronomer.com / @uastronomer )
Today's sponsor: Big thanks to our Patreon supporters this month: Dustin A Ruoff, Frank Tippin, Brett Duane, Jako Danar, Joseph J. Biernat, Nik Whitehead, Timo Sievänen, Steven Jansen, Casey Carlile, Phyllis Simon Foster, Tanya Davis, Rani B, Lance Vinsel, Steven Emert, Barbara Geier
Please consider sponsoring a day or two. Just click on the "Donate" button on the lower left side of this webpage, or contact us at signup@365daysofastronomy.org.
Or please visit our Patreon page: https://www.patreon.com/365DaysOfAstronomy
End of podcast:
365 Days of Astronomy
=====================
The 365 Days of Astronomy Podcast is produced by Planetary Science Institute. Audio post-production by Richard Drumm. Bandwidth donated by libsyn.com and wizzard media. You may reproduce and distribute this audio for non-commercial purposes. Please consider supporting the podcast with a few dollars (or Euros!). Visit us on the web at 365DaysOfAstronomy.org or email us at info@365DaysOfAstronomy.org. This year we will celebrates the Year of Everyday Astronomers as we embrace Amateur Astronomer contributions and the importance of citizen science. Join us and share your story. Until tomorrow! Goodbye!