Podcaster: Host : Fraser Cain ; Guest : Dr. Marina Kounkel , Alessondra Springmann, Beth Johnson, & Michael Rodruck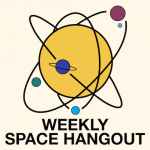 Title: Weekly Space Hangout :  Guest: Dr. ‪Marina Kounkel Talks Stars and How They Form‬
Link: Cosmoquest: http://cosmoquest.org
You can watch the video in: https://www.youtube.com/watch?v=tGX_lYXQ0wI
Description: Today's story:
Comet 2I/Borisov, the interstellar comet.
Ha! Saturn has the most moons, Jupiter!
Is the Milky Way getting more or less massive?
A 2 stage fully reusable space plane.
Host: Fraser Cain
Special Guest: Dr. Marina Kounkel ( http://mkounkel.com/ ) a postdoctoral scholar in the Physics and Astronomy Department at the Western Washington University. Her research focuses on observing the dynamics of young stars.
Marina is co-author, with Kevin Covey (also from WWU,) of the peer-reviewed study titled "Untangling the Galaxy I: Local Structure and Star Formation History of the Milky Way" published in The Astronomical Journal in August 2019. Using a machine-learning algorithm to analyze motion and position data obtained by Gaia for over a billion stars, almost 2000 new star clusters and co-moving groups of stars – Sibling Stars if you will – have been identified, all of which lie within ~3,000 light years from us.
Regular Guest:
Alessondra Springmann ( http://www.sondy.com/ & @sondy )
Beth Johnson – SETI Institute ( @SETIInstitute / @planetarypan )
Michael Rodruck ( https://sites.psu.edu/mrodruck/ / @MichaelRodruck )
Today's sponsor: Big thanks to our Patreon supporters this month: Dustin A Ruoff, Frank Tippin, Brett Duane, Jako Danar, Joseph J. Biernat, Nik Whitehead, Timo Sievänen, Steven Jansen, Casey Carlile, Phyllis Simon Foster, Tanya Davis, Rani B, Lance Vinsel, Steven Emert, Barbara Geier
Please consider sponsoring a day or two. Just click on the "Donate" button on the lower left side of this webpage, or contact us at signup@365daysofastronomy.org.
Or please visit our Patreon page: https://www.patreon.com/365DaysOfAstronomy
End of podcast:
365 Days of Astronomy
=====================
The 365 Days of Astronomy Podcast is produced by Planetary Science Institute. Audio post-production by Richard Drumm. Bandwidth donated by libsyn.com and wizzard media. You may reproduce and distribute this audio for non-commercial purposes. Please consider supporting the podcast with a few dollars (or Euros!). Visit us on the web at 365DaysOfAstronomy.org or email us at info@365DaysOfAstronomy.org. This year we will celebrates the Year of Everyday Astronomers as we embrace Amateur Astronomer contributions and the importance of citizen science. Join us and share your story. Until tomorrow! Goodbye!