Podcaster: Host : Fraser Cain ; Guest : Geoff Notkin, Veranika (Nika) Klimovich, Pam Hoffman, & Annie Wilson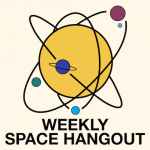 Title: Weekly Space Hangout : Weekly Space Hangout – Guests: Geoff Notkin, President of the National Space Society
Link: Cosmoquest: http://cosmoquest.org
You can watch the video in: https://www.youtube.com/watch?v=TKUotzKHrwM
Description: Today's story:
Space toilets!
AI in Earth observation satellites.
Upcoming events in astronomy.
Starship!
Host: Fraser Cain
Special Guest: Emmy Award-winning television host and producer Geoff Notkin ( @geoffnotkin & aerolite.org & https://space.nss.org/ ) starred in three seasons of the cult television adventure series Meteorite Men for Science Channel and two seasons of the educational series STEM Journals for Cox Media. He has also appeared in shows for Discovery, NASA EDGE, TLC, PBS, A&E, National Geographic Channel, History Channel, Travel Channel, and the BBC. He is a science writer, meteorite specialist, photographer, world traveler, and CEO of Aerolite Meteorites Inc, a leader in meteorite research and recovery.

An award-winning author, Notkin has published hundreds of articles on meteoritics, paleontology, astronomy, adventure travel, history, and the arts, with his work appearing in Astronomy, Astronomy Now, Sky & Telescope, USA Today, Wired, Reader's Digest, Robb Report, The Village Voice, All About Space, Seed, Rock & Gem, Geotimes and many other national and international publications. He is the author of three non-fiction books, Meteorite Hunting: How To Find Treasure From Space and Rock Star: Adventures Of A Meteorite Man (with an original introduction by Neil Gaiman), and My Incredibly Strange and Amazing Real-Life Adventures in the World of Comic Books. His spaceflight column, Throwing Pebbles at the Sky, is exclusive to the National Space Society's magazine, Ad Astra.
Regular Guest:
Veranika (Nika) Klimovich ( @veranikaspace & Pictame: @nika_klim )
Pam Hoffman ( http://everydayspacer.com/ & @EverydaySpacer )
Annie Wilson (http://www.psi.edu/about/staffpage/awilson & @BinaryAblaze)
Today's sponsor: Big thanks to our Patreon supporters this month: Dustin A Ruoff, Frank Tippin, Brett Duane, Jako Danar, Joseph J. Biernat, Nik Whitehead, Timo Sievänen, Steven Jansen, Casey Carlile, Phyllis Simon Foster, Tanya Davis, Rani B, Lance Vinsel, Steven Emert, Barbara Geier
Please consider sponsoring a day or two. Just click on the "Donate" button on the lower left side of this webpage, or contact us at signup@365daysofastronomy.org.
Or please visit our Patreon page: https://www.patreon.com/365DaysOfAstronomy
End of podcast:
365 Days of Astronomy
=====================
The 365 Days of Astronomy Podcast is produced by Planetary Science Institute. Audio post-production by Richard Drumm. Bandwidth donated by libsyn.com and wizzard media. You may reproduce and distribute this audio for non-commercial purposes. Please consider supporting the podcast with a few dollars (or Euros!). Visit us on the web at 365DaysOfAstronomy.org or email us at info@365DaysOfAstronomy.org. This year we will celebrates the Year of Everyday Astronomers as we embrace Amateur Astronomer contributions and the importance of citizen science. Join us and share your story. Until tomorrow! Goodbye!