Podcaster: Host : Fraser Cain ; Guest : Jean Wright, Dr. Brian Koberlein, Dr. Kimberly Cartier, Dr. Morgan Rehnberg, & Dr. Pamela Gay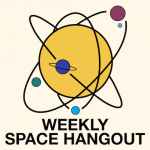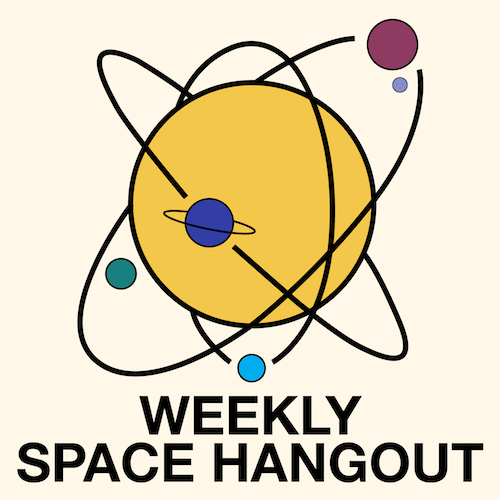 Title: Weekly Space Hangout :Guest: Jean Wright, NASA Seamstress to the Stars
Link: Cosmoquest: http://cosmoquest.org
You can watch the video in: https://www.youtube.com/watch?v=V9OWLrRRu5I
You can learn more about Jean by visiting https://slackhq.com/seamstress-to-the-literal-starsDr. Pamela Gay ( https://cosmoquest.org/x/ / @starstryder )


Description: Today's story:

NASA has ordered Moon landers!

JWST comes out of the vacuum…
SagA* cool gas ring.

OSIRISRex needs your help!

Host: Fraser Cain
Special Guests: This week, we welcome Jean Wright to the show. Jean is one of 18 seamstresses in the crucial role of Space Shuttle Thermal Protection Specialist. Jean and her co-workers, who dubbed their group "The Sew Sisters," used machine and hand stitching to build, create, and repair thermal protection flight hardware and parachutes that were used on the Space Shuttle program and Orion.
Jean currently works as a Docent at the Shuttle Atlantis exhibit at Kennedy Space Center Visitors Complex where she educates and entertains guests. She is a member of NASA's Speakers Bureau and as such represents NASA at civic, professional, educational, and public events.
One of the biggest thrills for Jean was being asked by Mark Armstrong, son of Neil Armstrong, to cut and prepare for auction pieces of historic muslin fabric from the Wright Brothers' 1903 Flyer that his father had carried to the moon aboard the Apollo 11 Lunar Module!

Regular Guest:
Dr. Brian Koberlein ( https://briankoberlein.com/ / @BrianKoberlein )
Dr. Kimberly Cartier ( http://KimberlyCartier.org & @AstroKimCartier ) Dr. Morgan Rehnberg ( http://cosmicchatter.org/ & @MorganRehnberg ) Dr. Pamela Gay ( https://cosmoquest.org/x/ / @starstryder )

[youtube https://www.youtube.com/watch?v=V9OWLrRRu5I&w=640&h=360]
Today's sponsor: Big thanks to our Patreon supporters this month: Dustin A Ruoff, Frank Tippin, Brett Duane, Jako Danar, Joseph J. Biernat, Nik Whitehead, Timo Sievänen, Steven Jansen, Casey Carlile, Phyllis Simon Foster, Tanya Davis, Rani B, Lance Vinsel, Steven Emert, Barbara Geier
Please consider sponsoring a day or two. Just click on the "Donate" button on the lower left side of this webpage, or contact us at signup@365daysofastronomy.org.
Or please visit our Patreon page: https://www.patreon.com/365DaysOfAstronomy
End of podcast:
365 Days of Astronomy
=====================
The 365 Days of Astronomy Podcast is produced by Planetary Science Institute. Audio post-production by Richard Drumm. Bandwidth donated by libsyn.com and wizzard media. You may reproduce and distribute this audio for non-commercial purposes. Please consider supporting the podcast with a few dollars (or Euros!). Visit us on the web at 365DaysOfAstronomy.org or email us at info@365DaysOfAstronomy.org. This year we will celebrates the Year of Everyday Astronomers as we embrace Amateur Astronomer contributions and the importance of citizen science. Join us and share your story. Until tomorrow! Goodbye!