Podcaster: Host : Fraser Cain ; Guest :Brother Guy Consolmagno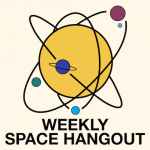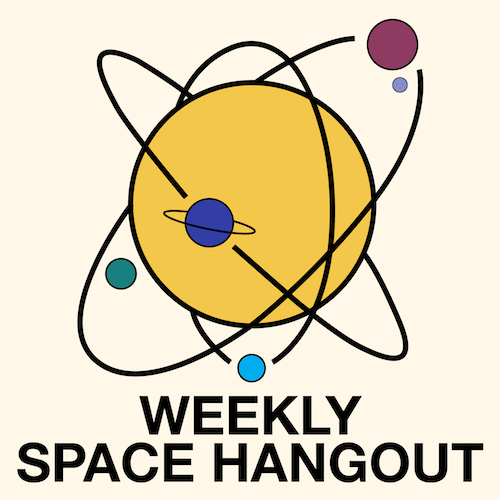 Title: Weekly Space Hangout : Guests: Brother Guy Consolmagno, Director of the Vatican Observatory
Link: Cosmoquest: http://cosmoquest.org
You can watch the video in: https://www.youtube.com/watch?v=N5p91ygjnGE
You can learn more about Brother Consolmagno by visiting his biography on the Vatican Observatory website: http://www.vaticanobservatory.va/content/specolavaticana/en/who-are-we-/staff/guy-j–consolmagno–s-j—1-.html
You can read Brother Consolmagno's writings on the Vatican Observatory Blog here: https://www.vofoundation.org/blog/author/br-guy/
To learn more about the Vatican Observatory visit http://www.vaticanobservatory.va/content/specolavaticana/en.html
Description: Today's story:

Moon 2024 project update.
Blue Moon system unveiled.
SpaceX launch for 60 StarLink satellites!

Power generating satellites.

LRO imaged Beresheet crater…

LightSail II, what's up?
Cis-lunar orbits.
Host: Fraser Cain
Special Guests: Brother Guy Consolmagno, Director of the Vatican Observatory.
Brother Consolmagno obtained his Bachelor's and Master's degrees in Planetary Science from Massachusetts Institute of Technology and his PhD, also in Planetary Science, from the University of Arizona's Lunar and Planetary Laboratory. After postdoctoral research and teaching at Harvard College Observatory and MIT, in 1983 he joined the US Peace Corps to serve in Kenya for two years, teaching astronomy and physics. After his return he took a position as Assistant Professor at Lafayette College in Easton, Pennsylvania.
In 1989 he entered the Society of Jesus, and in 1991 took vows as a brother. In 1993 Brother Consolmango was assigned as an astronomer to the Vatican Observatory where he also serves as curator of the Vatican Meteorite collection, a position he has held since then. In addition to his continuing professional work in planetary science, he has also studied philosophy and theology.
In addition to over 40 refereed scientific papers, he has co-authored several books on astronomy for the popular market, which have been translated into multiple languages. During 1996, he took part in the Antarctic Search for Meteorites, ANSMET, where he discovered a number of meteorites on the ice fields of Antarctica. An asteroid was named in his honor by the International Astronomical Union, IAU in 2000: 4597 Consolmagno.
On July 2, 2014, he was awarded the Carl Sagan Medal for outstanding communication by an active planetary scientist to the general public by the Division for Planetary Sciences of the American Astronomical Society.[7]
Known as "The Pope's Astronomer," he was named by Pope Francis to be the Director of the Vatican Observatory in September 2015.

[youtube https://www.youtube.com/watch?v=N5p91ygjnGE&w=640&h=360]
Today's sponsor: Big thanks to our Patreon supporters this month: Dustin A Ruoff, Frank Tippin, Brett Duane, Jako Danar, Joseph J. Biernat, Nik Whitehead, Timo Sievänen, Steven Jansen, Casey Carlile, Phyllis Simon Foster, Tanya Davis, Rani B, Lance Vinsel, Steven Emert, Barbara Geier
Please consider sponsoring a day or two. Just click on the "Donate" button on the lower left side of this webpage, or contact us at signup@365daysofastronomy.org.
Or please visit our Patreon page: https://www.patreon.com/365DaysOfAstronomy
End of podcast:
365 Days of Astronomy
=====================
The 365 Days of Astronomy Podcast is produced by Planetary Science Institute. Audio post-production by Richard Drumm. Bandwidth donated by libsyn.com and wizzard media. You may reproduce and distribute this audio for non-commercial purposes. Please consider supporting the podcast with a few dollars (or Euros!). Visit us on the web at 365DaysOfAstronomy.org or email us at info@365DaysOfAstronomy.org. This year we will celebrates the Year of Everyday Astronomers as we embrace Amateur Astronomer contributions and the importance of citizen science. Join us and share your story. Until tomorrow! Goodbye!