Podcaster: Host : Fraser Cain; Guest : Dave Eicher, Dr. Kimberly Cartier, Dr. Morgan Rehnberg, Dr. Paul M. Sutter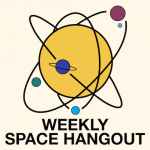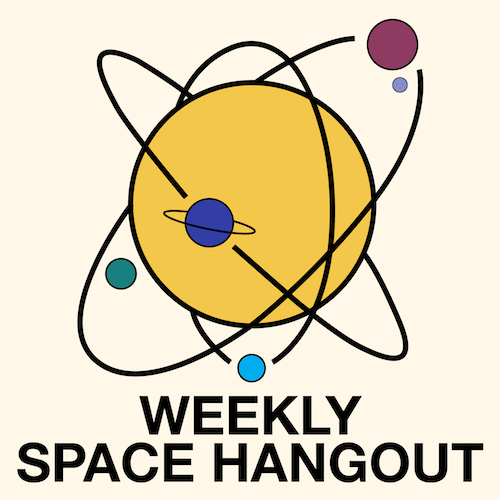 Title: Weekly Space Hangout – Guest: Dave Eicher of "Mission Moon 3-D"
Link: Cosmoquest: http://cosmoquest.org
You can learn more about Dr. Betts by visiting: http://www.planetary.org/about/staff/bruce-betts.html
If you want to learn about his new book and how to order it, visit: http://www.planetary.org/blogs/bruce-betts/astronomy-for-kids.html
You can watch the video in: http://youtu.be/Vd9se1uKSs8
Description: This week topics:
Martian canyons.
A cloud plume on Mars.
The Insight lander!
A novel geoengineering approach.
Discussing the search for life.
Host: Fraser Cain ( @fcain )
Special Guest: David Eicher, co-author with Dr. Brian May of Mission Moon 3-D: A New Perspective on the Space Race. During David's appearance, we will be giving away three copies of the book which is co-published with the MIT Press and the London Stereoscopic Association.
David Eicher is one of the most widely recognized astronomy enthusiasts in the world. He has been Editor in Chief of Astronomy magazine for the past thirty-five years. Eicher is the author or editor of 21 books on science and history. In 2014, he wrote and edited, along with Brian May and astronomer Garik Israelian, Starmus: 50 Years of Man in Space, and in 2016 edited the follow-up volume, Starmus: Discovering the Universe. In 1990, the International Astronomical Union named a minor planet, 3617 Eicher, for Eicher in recognition of his service to astronomy. He has spoken to and inspired many science and business groups around the world, including at Harvard University, the Starmus Festival and the American Museum of Natural History in New York. Dave was president of the Astronomy Foundation, the telescope industry and astronomy outreach group, from 2011–2017.
Guests:
Dr. Kimberly Cartier ( http://KimberlyCartier.org & @AstroKimCartier )
Dr. Morgan Rehnberg ( http://cosmicchatter.org/ & @MorganRehnberg )
Dr. Paul Matt Sutter ( http://www.pmsutter.com/ & @PaulMattSutter )
[youtube https://www.youtube.com/watch?v=Vd9se1uKSs8&w=640&h=360]
Today's sponsor: Big thanks to our Patreon supporters this month: Helge Bjorkhaug, Brett Duane, Joseph J. Biernat, Nik Whitehead, Timo Sievänen, Noel Ruppenthal, Steven Jansen, Casey Carlile, Phyllis Simon Foster, Tanya Davis, Lani B, Lance Vinsel.
Immerse yourself in the web of life under a symphony of starlight in Costa Rica with Paul Sutter. Check it out at: http://astrotours.co/365days
Please consider sponsoring a day or two. Just click on the "Donate" button on the lower left side of this webpage, or contact us at signup@365daysofastronomy.org.
Or please visit our Patreon page: https://www.patreon.com/365DaysOfAstronomy
End of podcast:
365 Days of Astronomy
=====================
The 365 Days of Astronomy Podcast is produced by Astrosphere New Media. Audio post-production by Richard Drumm. Bandwidth donated by libsyn.com and wizzard media. You may reproduce and distribute this audio for non-commercial purposes. Please consider supporting the podcast with a few dollars (or Euros!). Visit us on the web at 365DaysOfAstronomy.org or email us at info@365DaysOfAstronomy.org. This year we will celebrates the Year of Everyday Astronomers as we embrace Amateur Astronomer contributions and the importance of citizen science. Join us and share your story. Until tomorrow! Goodbye!