Podcaster: Chris North and Edward Gomez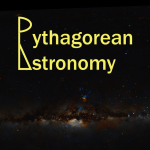 Title: Pythagorean Astronomy: Icy Moons and Ice Cubes
Organization: Cardiff University and Las Cumbres Observatory
Link: http://pythagastro.uk Twitter: @cardiffphysx, @chrisenorth,@zemogle
An extended edition of an original broadcast on 25th July 2018 as part of Pythagoras' Trousers on Radio Cardiff.
Subscribe to the podcast, or visit pythagastro.uk for an archive.
Description: It was announced this month that Jupiter has got even more moons than previously thought, with its total haul now coming in at 79! Chris North and Edward Gomez discuss why the new moons are odd. The Very Large Telescope in Chile also made a new discovery – a very young planet forming in the dusty disk of material around its star. And back here on Earth, the MeerKAT radio telescope has been inaugurated in South Africa, producing a new image of the centre of our galaxy and making important progress towards the eventual goal Square Kilometre Array, which will be spread across Southern Africa and Australia..
But there was a more unusual announcement this month from the IceCube neutrino observatory, which is sensitive to ghostly subatomic particles called neutrinos. At the end of last year, the team worked with "traditional" astronomers, i.e. those looking at light of various wavelengths, to identify a neutrino that originated from a blazar – material surrounding a supermassive black hole in the centre of a galaxy. Since this takes us in to the realm of particle physics, I spoke to Dr Ben Still, honorary researcher at Queen Mary University London and author of "Particle Physics Brick by Brick", in order to find out more about neutrinos, how we detect them, and what we can learn from them.
Bio: Dr Chris North is an astronomy researcher and science communicator based at Cardiff University. As well as being the Ogden Science Lecturer in the School of Physics and Astronomy, he holds an STFC Public Engagement Fellowship entitled "The Dawn of Gravitational Wave Astronomy". While his background is cosmology and infrared astronomy, he currently focus more on gravitational waves. His emphasis on communication is workshops for schools, as well as online interactive resources. He is also a co-author of several books.
Dr Edward Gomez has been fascinated by astronomy since childhood. When he realised that he could use maths and computers to do fun things with astronomy, he knew he was hooked for life. He never grew out of it and now he is lucky enough to be a professional astrophysicist. As part of his role with LCO he tries to find novel ways to engage the public in astronomy. This has taken the form of creating citizen science projects like Agent Exoplanet, interactive educational web apps like Star in a Box, and online community events like Show Me Stars.
Today's sponsor: This episode of "365 Days of Astronomy" is sponsored by — no one. We still need sponsors for many days in 2017, so please consider sponsoring a day or two. Just click on the "Donate" button on the lower left side of this webpage, or contact us at signup@365daysofastronomy.org.
Or please visit our Patreon page: https://www.patreon.com/365DaysOfAstronomy
End of podcast:
365 Days of Astronomy
=====================
The 365 Days of Astronomy Podcast is produced by Astronomical Society of the Pacific. Audio post-production by Richard Drumm. Bandwidth donated by libsyn.com and wizzard media. You may reproduce and distribute this audio for non-commercial purposes. Please consider supporting the podcast with a few dollars (or Euros!). Visit us on the web at 365DaysOfAstronomy.org or email us at info@365DaysOfAstronomy.org. This year we will celebrates the Year of Everyday Astronomers as we embrace Amateur Astronomer contributions and the importance of citizen science. Join us and share your story. Until tomorrow! Goodbye!