Podcaster: Host : Fraser Cain ; Guest : Dr. Jillian Scudder & Dr. Kimberly Cartier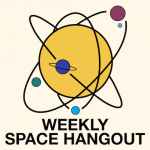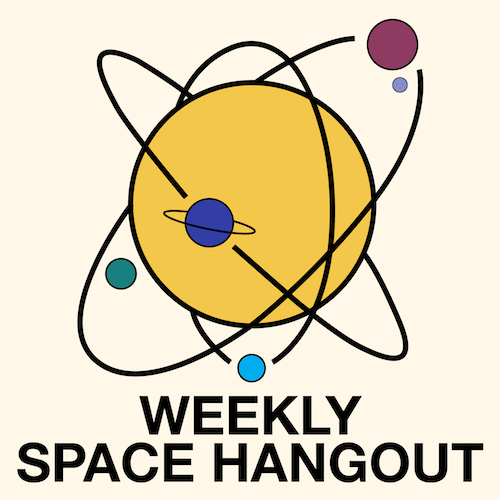 Title: Weekly Space Hangout – Guest: Stella Kafka, Director of the AAVSO
Link: Cosmoquest: http://cosmoquest.org
You can watch the video in: http://youtu.be/65mjyW2oM0M
Description: Dr. Jillian Scudder ( https://www.jillianscudder.com/ ) who will be telling us about her new book, Astroquizzical (Icon, June 2018) in which she takes us on an enthralling cosmic journey through space and time and locates our home planet within its own "family tree." Our parent the Earth and its sibling planets in our solar system formed within the same gas cloud. Without our grandparent the Sun, we would not exist, and the Sun in turn relies on the Milky Way as its home. The Milky Way rests in a larger web of galaxies that traces its origins right back to tiny fluctuations in the very early Universe.
Other topics:
A trio of baby planets.
Space Force!!! (pew, pew)
Closer upper images of Ryugu.
More organic molecules found on Ceres.
Host: Fraser Cain ( @fcain )
Special Guest: Jillian Scudder is an astrophysicist and assistant professor at Oberlin College. Her writing has also been published in Forbes, Quartz, Medium, and The Conversation. She was born in Sarasota, Florida, and has been on the move ever since. She completed her undergraduate degree at Macalester College in 2009, taking the unusual double major of Physics & French. She completed her Ph.D in astrophysics at the University of Victoria, in British Columbia. In her spare time, she enjoys origami, coloring books, and video games.
Guests:
Dr. Kimberly Cartier ( http://KimberlyCartier.org @AstroKimCartier)

Today's sponsor: This episode of "365 Days of Astronomy" is sponsored by — no one. We still need sponsors for many days in 2017, so please consider sponsoring a day or two. Just click on the "Donate" button on the lower left side of this webpage, or contact us at signup@365daysofastronomy.org
End of podcast:
365 Days of Astronomy
=====================
The 365 Days of Astronomy Podcast is produced by Astronomical Society of the Pacific. Audio post-production by Richard Drumm. Bandwidth donated by libsyn.com and wizzard media. You may reproduce and distribute this audio for non-commercial purposes. Please consider supporting the podcast with a few dollars (or Euros!). Visit us on the web at 365DaysOfAstronomy.org or email us at info@365DaysOfAstronomy.org. This year we will celebrates the Year of Everyday Astronomers as we embrace Amateur Astronomer contributions and the importance of citizen science. Join us and share your story. Until tomorrow! Goodbye!