Podcaster: Dr. George Doschek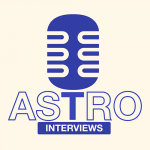 Title: Astro Interviews : Our Sun & Its Mysterious Atmosphere
Organization: 365 Days Of Astronomy
Link : 365 Days Of Astronomy
Description: Recorded at the Astronomical League's 2016 Annual Convention. Your Producer, Richard Drumm, apologizes for the sketchy audio quality. Someday he'll buy a wireless mic and won't have to record "room tone" off the PA system any more.
The origin of the solar chromosphere, corona, and the production of solar flares and coronal mass ejections that occur within these regions are exciting unsolved problems of solar physics. There are many theories and a plethora of space observations that observe the high energy solar atmosphere in ultraviolet, extreme-ultraviolet, X-ray, and gamma ray wavelengths. These observations have given us stunning views of the Sun that are not attainable from the Earth's surface. Dr. Doschek discusses some of the most spectacular results from recent spacecraft such as the Solar Dynamics Observatory, STEREO, Hinode, RHESSI, and SOHO and what their data are telling us about the fundamental physics that drives the solar atmosphere and its effects on the Earth.
Bio: Richard Drumm is President of the Charlottesville Astronomical Society and President of 3D – Drumm Digital Design, a video production company with clients such as Kodak, Xerox and GlaxoSmithKline Pharmaceuticals. He was an observer with the UVa Parallax Program at McCormick Observatory in 1981 & 1982. He has found that his greatest passion in life is public outreach astronomy and he pursues it at every opportunity.
Dr. George Doschek is a Research Physicist in the Solar & Heliospheric Physics Branch in the Space Science Division of the Naval Research Laboratory (NRL).
Today's sponsor: This episode of "365 Days of Astronomy" is sponsored by — no one. We still need sponsors for many days in 2015, so please consider sponsoring a day or two. Just click on the "Donate" button on the lower left side of this webpage, or contact us at signup@365daysofastronomy.org.
End of podcast:
365 Days of Astronomy
=====================
The 365 Days of Astronomy Podcast is produced by NUCLIO. Audio post-production by Richard Drumm. Bandwidth donated by libsyn.com and wizzard media. You may reproduce and distribute this audio for non-commercial purposes. Please consider supporting the podcast with a few dollars (or Euros!). Visit us on the web at 365DaysOfAstronomy.org or email us at info@365DaysOfAstronomy.org. This year we celebrate cosmic light as light is our info messenger in the universe. Join us and share your story to celebrate the International Year of Light. Until tomorrow! Goodbye!