Podcaster:  Host : Fraser Cain ; Guest : Dr. Frank Timmes, Dr. Nicole Gugliucci, Dave Dickinson, Morgan Rehnberg, Kimberly Cartier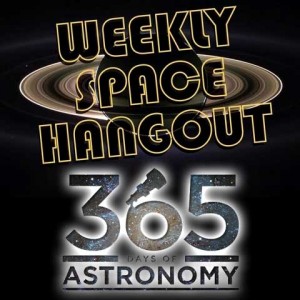 Title: Weekly Space Hangout: Dr. Frank Timmes – Astronomy Online Education
Link: Cosmoquest: http://cosmoquest.org
You can watch the video in: http://youtu.be/F0kJ9A_JL1M
Description: This Week's Stories:
A giant radio space blob! LAB-1
A new bill to target serial sexual harassers
The final days of Rosetta
Microlensing circumbinary planet is detected
Hubble deep field by ALMA
Tiangong to crash next year
The repeat of Voyager's impossible cloud
Bio: Fraser Cain is the publisher of Universe Today
Special guests: Dr. Frank Timmes is an astrophysicist at Arizona State University. His interests include the universe's evolving composition and its implications for life in the universe. Dr. Timmes' current area of research is nuclear astrophysics and the creation of the periodic table. He will be discussing online astronomy education, the Global Freshman Academy at Arizona State University ( http://gfa.asu.edu/ ).
Guests:
Dr. Nicole Gugliucci ( http://noisyastronomer.com/ & @NoisyAstronomer )
Dave Dickinson ( http://astroguyz.com/ & @Astroguyz )
Morgan Rehnberg ( http://cosmicchatter.org/ & @MorganRehnberg )
Kimberly Cartier ( http://KimberlyCartier.org & @AstroKimCartier )
Today's sponsor: This episode of "365 Days of Astronomy" is sponsored by — by .SPACE Domain Names.
.SPACE is a brand new domain name extension for the SPACE Industry. It is now possible to have a more defining and memorable website address like www.YourBrandName.space which clearly identifies your industry and specialization, rather than a .com.
We've got a few cool names like www.cosmoquest.space for ourselves, and you should get yours right away. Head over to www.launch.space now and Use the coupon 365SPACE at checkout to get a special discount. Link in the description below!
End of podcast:
365 Days of Astronomy
=====================
The 365 Days of Astronomy Podcast is produced by Astrosphere New Media. Audio post-production by Richard Drumm. Bandwidth donated by libsyn.com and wizzard media. You may reproduce and distribute this audio for non-commercial purposes. Please consider supporting the podcast with a few dollars (or Euros!). Visit us on the web at 365DaysOfAstronomy.org or email us at info@365DaysOfAstronomy.org.  This year we will celebrate more discoveries and stories from the universe. Join us and share your story. Until tomorrow! Goodbye!