Podcaster: Ralph, Paul & Jenny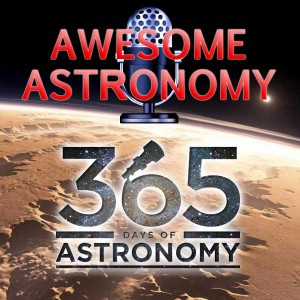 Title : Awesome Astronomy's September Edition
Organization: Awesome Astronomy
Link : www.awesomeastronomy.com
Description: The Discussion: Jeni's astronomy research yields its first results in the hunt for exoplanet phase variation and we revisit our Star Wars podcast extras with a listener's book review.
The News: Rounding up the space and astronomy news this month we have:
An 'Earthlike planet detected by ESO around our nearest stellar neighbour
The upcoming launch of OSIRIS Rex to sample an asteroid
That bump in the data at CERN turns out to be a false hope
That alien megastructure story just won't foxtrot oscar
The Cassini spacecraft spots methane filled canyons on Saturn's moon Titan
A meteorite lands in Yorkshire garden. Real or fake?
Woobusters: Continuing our quest to debunk the myths and conspiracy theories that persist in every dark corner of the news and the internet. This month's topic, picked at random from Paul's festering Hat of Woo: Area 51 – the remote and secret installation in the Nevada desert where sanity gets dissected and reason is left to die.
Q&A: Listeners' questions via email, Facebook & Twitter take us on a journey into the astronomy issues that have always plagued our understanding or stretched our credulity. This month we get a question that probes certainty in science and how high certainty discoveries can still turn out to be wrong:
Why when the Bicep two team found the evidence for primordial gravitational waves did they claim it was a five sigma result, and later wasn't it shown the result was not accurate? I thought a five sigma had a 1 in 350million chance of being wrong! There has to be something I don't understand about the sigma scale or the Bicep results? Rodney Cuthbertson.
 Bio: Awesome Astronomy is the show for anyone and everyone who has even the slightest interest in astronomy and science.
Join Ralph, Paul & Jeni for informative and fun astronomy programs telling you what to look out (and up) for every month as well as a main show dedicated to space and astronomy news. You can be guaranteed a passion for astronomy, simple explanations of complex and fundamental topics, space and science discussions, absorbing interviews with astronomers and astronauts who make the news and answers to listeners' space questions.
Today's sponsor: This episode of "365 Days of Astronomy" is sponsored by — no one. We still need sponsors for many days in 2016, so please consider sponsoring a day or two. Just click on the "Donate" button on the lower left side of this webpage, or contact us at signup@365daysofastronomy.org.
Transcript:
End of podcast:
365 Days of Astronomy
=====================
The 365 Days of Astronomy Podcast is produced by Astrosphere New Media. Audio post-production by Richard Drumm. Bandwidth donated by libsyn.com and wizzard media. You may reproduce and distribute this audio for non-commercial purposes. Please consider supporting the podcast with a few dollars (or Euros!). Visit us on the web at 365DaysOfAstronomy.org or email us at info@365DaysOfAstronomy.org.  This year we will celebrate more discoveries and stories from the universe. Join us and share your story. Until tomorrow! Goodbye!