Podcaster:  Host : Fraser Cain ; Guest :Dr. Seth Shostak,Paul M. Sutter, Kimberly Cartier, Jolene Creighton, Nicole Gugliucci, Brian Koberlein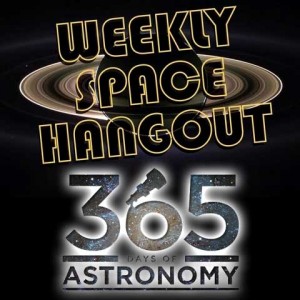 Title: Weekly Space Hangout: Dr. Seth Shostak
Link: Cosmoquest: http://cosmoquest.org
You can watch the video in: http://youtu.be/qEgxax1i_lg
Description: This Week's Stories:
Update on NASA's Juno Mission
"Fresh" Lunar Craters
Do Primordial Black Holes Solve Dark Matter?
India Successfully Launches Tiny Reusable Space Shuttle
MeerKAT First Images
Europa's ocean may have Earth-like chemical balance
Faintest early-universe galaxy detected
30 KM Wide Asteroid Impacted Australia 3.4 Billion Years Ago
We record the Weekly Space Hangout every Friday at 12:00 pm Pacific / 3:00 pm Eastern. You can watch us live on Google+, Universe Today, or the Universe Today YouTube page
Bio: Fraser Cain is the publisher of Universe Today
Special Guest:
Dr. Seth Shostak ( http://radio.seti.org/ & @SethShostak ) is the Senior Astronomer at the SETI Institute. He also heads up the International Academy of Astronautics' SETI Permanent Committee. In addition, Seth is keen on outreach activities: interesting the public – and especially young people – in science in general, and astrobiology in particular. He's co-authored a college textbook on astrobiology, and has written three trade books on SETI. In addition, he's published more than 400 popular articles on science — including regular contributions to both the Huffington Post and Discover Magazine blogs — gives many dozens of talks annually, and is the host of the SETI Institute's weekly science radio show, "Big Picture Science."

Guests:
Paul M. Sutter ( http://www.pmsutter.com/ & @PaulMattSutter )
Kimberly Cartier ( http://KimberlyCartier.org & @AstroKimCartier )
Jolene Creighton ( http://futurism.com/? & @futurism )
Nicole Gugliucci ( http://noisyastronomer.com/ & @NoisyAstronomer )
Brian Koberlein ( https://briankoberlein.com/ & @BrianKoberlein )
Today's sponsor: This episode of "365 Days of Astronomy" is sponsored by — no one. We still need sponsors for many days in 2016, so please consider sponsoring a day or two. Just click on the "Donate" button on the lower left side of this webpage, or contact us at signup@365daysofastronomy.org.
End of podcast:
365 Days of Astronomy
=====================
The 365 Days of Astronomy Podcast is produced by Astrosphere New Media. Audio post-production by Richard Drumm. Bandwidth donated by libsyn.com and wizzard media. You may reproduce and distribute this audio for non-commercial purposes. Please consider supporting the podcast with a few dollars (or Euros!). Visit us on the web at 365DaysOfAstronomy.org or email us at info@365DaysOfAstronomy.org.  This year we will celebrate more discoveries and stories from the universe. Join us and share your story. Until tomorrow! Goodbye!