Podcaster: Alice Enevoldsen aka Alice's AstroInfo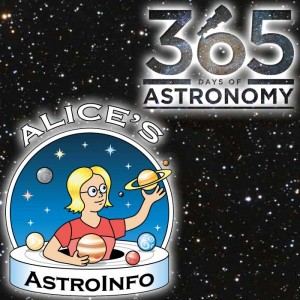 Title: What's Up Tonight! Southern Skies September 2015 Edition
Organization: Alice's AstroInfo
Link : www.alicesastroinfo.com
Heavens-Above Starcharts for anywhere, anytime, not installation required
Stellarium Free planetarium-style program for your computer or tablet
7Timer – Clear sky charts (will it be clear enough for stargazing?). Input your location, then click on "ASTRO" in the pop-up.
Description: Presented as a counterpart to Awesome Astronomy's Northern Hemisphere monthly forecast, Alice talks about what's visible from the Southern Hemisphere. Focused at about 33°S, this forecast should work for anywhere between 25°S and 50°S
Bio: Alice Enevoldsen currently volunteers as one of NASA's Solar System Ambassadors. She has been working in planetariums since 1996, has a B.A. in Astronomy-Geology from Whitman College, and a Masters in Teaching from Seattle University. Her fascination with the stars led her to try her hand at astronomy research in Boston and Walla Walla, where she realized that her calling in life was actually to work in outreach and be a translator for scientists. Now she works hard to share her love of the stars and excitement about astronomy with as many people as possible.
Today's sponsor: This episode of "365 Days of Astronomy" is sponsored by — no one. We still need sponsors for many days in 2015, so please consider sponsoring a day or two. Just click on the "Donate" button on the lower left side of this webpage, or contact us at signup@365daysofastronomy.org.
Transcript:
Hello, I'm Alice Enevoldsen, coming to you not-so-live from Alice's AstroInfo with a podcast about what's up in the September 2015 skies … over the Southern Hemisphere.
How are you today?… Oh good.
I think this is the season which feels most dissonant to me from the Southern Hemisphere. September has always been a busy month of beginnings for me—what with the garden harvest coming in, and the school year starting up. By October things have settled into new routines and the autumn weather, but September is always an uproar of new schedules. So being in the midst of this and imagining spring is even harder for me than imagining summer in winter or winter in summer.
Top News this Month:
International Observe the Moon night, a partial solar eclipse and a total lunar eclipse plus supermoon, all this month!
The partial solar eclipse will only be visible from Namibia and anyone who just happens to be listening in Antarctica – around 7:30 in the morning on September 13th.
The total lunar eclipse will be seen from the Americas and Western Africa on the night between September 27th and 28th, and since supermoons only occur during full and new Moon phases, and this month happens to have one of the handful in 2015, it happens the same night.
But! But … September 19th, International Observe the Moon night is what I'd like to recommend to you this month. There truly are events being held all over the world, I hope one is near you. If not, you should host one! I see a couple listed in Australia, many in Indonesia, quite a few in South American, and so far only one in Africa (in Tanzania) … though I hear tell that last year most of the events on the continent of Africa were registered only after the fact, so check in with your local museums, parks, and astronomy clubs to see if anything is happening.
This event is helpfully held during a waxing crescent Moon, which is visible during the afternoon and early evening, as well as the early part of the night. It's also on a Saturday. You don't need any special equipment, just time to relax and enjoy the Moon … or gear up and geek out about all the awesome that is our nearest neighbor in space.
What shapes do you see in the face of the Moon? I've learnt many, and a recent special issue of National Geographic, their Guide to the Night Sky: A Stargazer's Companion has a nice collection of illustrations of shapes seen by various cultures around the world. It's the best collection I've seen thus far, in all honesty, because it first shows the Northern and Southern Hemisphere views of the Moon, and then six different illustrations overlaid to show how to find the pictures. I'd only previously heard of half of them, and a few they don't show. First is Jade Rabbit from a variety of countries in Asia, then both the Man in the Moon from the United States and the moon man from Europe. These are followed by handprints from India (I can't wait to look for that one), the Moon Tree from Hawaii, and the Moon woman from New Zealand. The two others I can remember are the rabbit oriented the other direction, and the face of the woman in the Moon.
Let's cover the Moon Phases, dates adjusted for Sydney, Australia.
The last quarter moon on September 5th will be visible in the early morning sky.
The day of the new moon will be September 13th, you won't see the Moon at all, but a day before or after you might see a tiny sliver of a crescent Moon as the Sun rises or sets, and a few days outside of that the Moon will be up all day.
The first quarter moon, September 21st, is ideal for late afternoon and early evening observation.
The next full moon will be September 28th. It rises around sunset, and sets around sunrise.
Just a few quick tips on Sky Objects this month: you'll still have Saturn in the evening, Venus and Mars in the morning, and later this month we'll gain Jupiter.
You can download a nice starmap from the Sydney Observatory at http://www.sydneyobservatory.com.au/.
The lineup of early Evening Constellations gains Pegasus, Andromeda, and Perseus. Also Aries, which I saw at 3am last month and was completely befuddled by, it being several hours later than my usual viewing, and also, possibly the constellation I turn up my nose the most at – it's 3 stars. At least Canis Minor has the gumption to be a whole constellation whose main picture is made of two stars, and Triangulum doesn't make any pretense about being an constellation of heritage, and clearly states what it is: a triangle.
If you have a Telescope or Bincoulars, your joy this week will be in finding unique craters on the Moon – find at least one with a peak in the middle (rocky splashback from the impact that formed the crater), and another along the terminator (the division between the night half and day half of the Moon) where you can see part of the crater rim or center peak lit up beyond the terminator, on the dark side.
Well! Thanks for tuning in: I hope I gave you some things for which to keep your eyes peeled.
For those of you who haven't listened before, I'm here as a foil for Ralph and Paul with Awesome Astronomy and their monthly 365 Days of Astronomy, International Year of Light podcast about what's up in the skies over the Northern Hemisphere.
This podcast is based at 33°S: times and dates are given for Sydney, Australia. Most information will be good anywhere from about 25°S to 50°S, though you may have to adjust the time zone. This will include major cities in Australia, New Zealand, countries in Africa south of Mozambique and Namibia, as well as the parts of South America south of Paraguay.
I'll add some of my favorite planning links to the end of the transcript for you as usual. If you have suggestions, things that you'd like me to add to the "What's up Tonight, Southern Skies Edition," you can e-mail me from my website
Once again, I'm Alice Enevoldsen. You can find me online as AlicesAstroInfo on Twitter, Facebook, and www.alicesastroinfo.com.
Bye! See you later!
Useful Links:
Heavens-Above Starcharts for anywhere, anytime, no installation required
Stellarium Free planetarium-style program for your computer or tablet
7Timer – Clear sky charts (will it be clear enough for stargazing?). Input your location, then click on "ASTRO" in the pop-up.
Monthly Sky Guides from Sydney Observatory
End of podcast:
365 Days of Astronomy
=====================
The 365 Days of Astronomy Podcast is produced by NUCLIO. Audio post-production by Richard Drumm. Bandwidth donated by libsyn.com and wizzard media. You may reproduce and distribute this audio for non-commercial purposes. Please consider supporting the podcast with a few dollars (or Euros!). Visit us on the web at 365DaysOfAstronomy.org or email us at info@365DaysOfAstronomy.org. This year we celebrate cosmic light as light is our info messenger in the universe. Join us and share your story to celebrate the International Year of Light. Until tomorrow! Goodbye!