Podcaster:  Nancy Alima Ali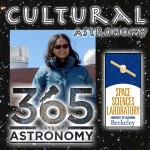 Title: Cultural Astronomy – On Being an Artist and Astronomer
Organization: Multiverse, Space Sciences Lab, University of California at Berkeley
Links: http://multiverse.ssl.berkeley.edu/, http://www.astroalima.com, http://www.niaimara.com/home.html
Description: Nia Imara, postdoctoral fellow at the Harvard-Smithsonian Center for Astronphysics, talks with Nancy Alima Ali about the intersections of astronomy and art. Topics discussed include using light to see star-forming regions in giant molecular clouds, how being an artist influences being an astronomer (and vice versa), as well as the similarities and differences between science and art.
Bio: Nancy Alima Ali, M.Ed., is a Coordinator of Public Programs at Multiverse at the Space Sciences Lab at the University of California, Berkeley. For over 15 years, Ms. Ali has been active in both formal and informal education as a classroom teacher, college instructor, museum educator, curriculum developer and program manager. Ms. Ali has a particular interest in exploring the ways in which multiple worldviews contribute to our understanding of the cosmos. She blogs about the intersection of astronomy and culture at www.astroalima.com.
Guest Bio: Nia Imara is an artist whose body of work includes paintings (oil on canvas), quilts, and posters.  From 2011 to 2014 she exhibited her paintings as well as the work of other artists local to the San Francisco Bay Area at her gallery, First Love, in Oakland, California. Imara is also a scientist and is currently a postdoctoral fellow at the Harvard-Smithsonian Center for Astrophysics.
Today's sponsor: This episode of "365 Days of Astronomy" is sponsored by — no one. We still need sponsors for many days in 2015, so please consider sponsoring a day or two. Just click on the "Donate" button on the lower left side of this webpage, or contact us at signup@365daysofastronomy.org.
Transcript:
Introductions – Nia Imara, Harvard Smithsonian Astrophysical Observatory
What is a postdoc position
Nia's research – radio astronomy focusing on giant molecular clouds
Stellar nurseries where stars are formed, invisible in optical wavelengths
Looking at radio images, studying physical properties and studying physics of stellar formation
How the environments in which stars were born are formed and evolve
Blackness between stars is not actually empty
Human eyes see visible light
Emissions from molecular clouds is seen in radio and infrared light
Example of the Orion constellation star-forming region
Radio waves are a tool that are used to learn about molecular clouds
Astronomy as a science of light
Telescopes collecting different wavelengths of light
Look at different objects in different wavelengths
How do you process the data about molecular clouds?
Take pictures of the universe and analyze using computers
Can't perform controlled experiments
Using physics, math and computer as tools to understand the Universe
In addition to being an astronomer, Nia is also an artist
Main medium is oil on canvas
Connection between astronomer and artist – interested in light and color
Astronomers understand the physics of color
Description of Nia's art
Very colorful, portraits of people, expressive, saturated color
Idea driven, capture symbols in brushstrokes and paint
http://www.niaimara.com/home.html
How being an artist influences being an astronomer
How being an astronomer influences being an artist
Similarities and differences between science and art
End of podcast:
365 Days of Astronomy
=====================
The 365 Days of Astronomy Podcast is produced by NUCLIO. Audio post-production by Richard Drumm. Bandwidth donated by libsyn.com and wizzard media. You may reproduce and distribute this audio for non-commercial purposes. Please consider supporting the podcast with a few dollars (or Euros!). Visit us on the web at 365DaysOfAstronomy.org or email us at info@365DaysOfAstronomy.org. This year we celebrate cosmic light as light is our info messenger in the universe. Join us and share your story to celebrate the International Year of Light. Until tomorrow! Goodbye!