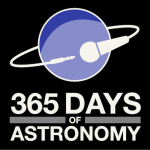 Producing 365 podcasts isn't free. Through a variety of sponsorships we hope to raise enough money to pay students to do the post-production work on the podcast. 100% of the money we collect goes to the production of the podcast and associated materials.
To that end we are offering sponsorships for $25 per day. Like the podcasts, you can suggest a specific date or dates for your sponsorship and we'll dole them out on a first-come first-serve basis. Sponsors will be mentioned "NPR style" on the podcasts they sponsor. All donations are tax-deductible where allowed by law.
So…you or your organization could sponsor 1 podcast per week, every podcast for a given week, 1 per month — you decide. You're doing a good thing and your sponsorship will literally make the podcast possible.
To donate via PayPal, click on the Donate button on the left and tell us your date requests, if any, in the Add special instructions to the seller box at PayPal*. You can also email us at info@365DaysOfAstronomy.org to arrange other payment methods.
We are also looking for major corporate sponsors to help us with production expenses, equipment, travel and printing of CD, DVD and written materials.
Thank you in advance!
* At PayPal you'll be donating to the Southern Illinois University Edwardsville Foundation for the International Year of Astronomy Media Task Group & Websites Fund.