Podcaster:  Nancy Alima Ali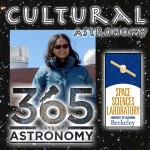 Title: Cultural Astronomy – Easter and the Missing Days
Organization: Multiverse, Space Sciences Lab, University of California at Berkeley
Links: http://multiverse.ssl.berkeley.edu/, http://www.astroalima.com
Description: Professor Emeritus of Astronomy and History of Science at the Harvard Smithsonian Center for Astrophysics talks with Nancy Alima Ali from UC Berkeley's Space Science Lab to explore the intricacies of calendars in determining the date of Easter. He explains how Easter is connected to the phases of the Moon and discusses the basis for the Gregorian calendar, including the reform which resulted in the disappearance of 10 days.
Bio: Nancy Alima Ali, M.Ed., is a Coordinator of Public Programs at Multiverse at the Space Sciences Lab at the University of California, Berkeley. For over 15 years, Ms. Ali has been active in both formal and informal education as a classroom teacher, college instructor, museum educator, curriculum developer and program manager. Ms. Ali has a particular interest in exploring the ways in which multiple worldviews contribute to our understanding of the cosmos. She blogs about the intersection of astronomy and culture at www.astroalima.com.
Guest Bio: Owen Gingerich is a Professor Emeritus of Astronomy and the History of Science at Harvard University and an emeritus senior astronomer at the Smithsonian Astrophysical Observatory. Professor Gingerich has been vice president of the American Philosophical Society, served as chairman of the US National Committee of the International Astronomical Union, has been a councilor of the American Astronomical Society and helped organize its Historical Astronomy Division. He is a leading authority on the 16th-century Polish cosmologist Nicolaus Copernicus and the 17th-century German astronomer Johannes Kepler. Besides 200 technical or research articles and 300 reviews, Professor Gingerich has written more than 250 educational, encyclopedia or popular articles. Long interested in science-religion dialogue, his latest book titled God's Planet looks at the nature of science and our understanding of the cosmos.
Today's sponsor: This episode of "365 Days of Astronomy" is sponsored by — no one. We still need sponsors for many days in 2015, so please consider sponsoring a day or two. Just click on the "Donate" button on the lower left side of this webpage, or contact us at signup@365daysofastronomy.org.
Transcript:
Welcome and Introductions
Why do people have calendars?
The Moon & Metonic cycle
Seasonal Calendars
Equinoxes & Easter
What do equinoxes have to do with Easter?
Egyptian Calendar
Julian Calendar
Slippage of Days
Gregorian Calendar Reform
The Missing 10 Days
Gregorian Calendar & Leap Days
Two Different Dates for Easter
Different Kinds of Calendars
Gregorian Calendar Now
Trickiness of Calendars
Summary of Determining Easter Date
Thanks & Last Thoughts
End of podcast:
365 Days of Astronomy
=====================
The 365 Days of Astronomy Podcast is produced by NUCLIO. Audio post-production by Richard Drumm. Bandwidth donated by libsyn.com and wizzard media. You may reproduce and distribute this audio for non-commercial purposes. Please consider supporting the podcast with a few dollars (or Euros!). Visit us on the web at 365DaysOfAstronomy.org or email us at info@365DaysOfAstronomy.org. This year we celebrate cosmic light as light is our info messenger in the universe. Join us and share your story to celebrate the International Year of Light. Until tomorrow! Goodbye!