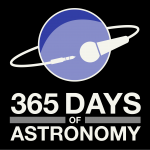 Date: November 9, 2009
Title: Celebrate Carl Sagan's 75th With Longtime Collaborator Ann Druyan

Podcaster: Mat Kaplan
Organization: Planetary Radio http://planetary.org/radio
"A Glorious Dawn" video on You Tube
Description: This would have been Carl Sagan's 75th birthday. Ann Druyan tells us how she'll be celebrating on Capitol Hill with Neil deGrasse Tyson, Bill Nye, Jim Bell, and others. You'll also hear her praise the wildly popular "Glorious Dawn" music video starring her late husband. The Planetary Society will use the occasion to announce an exciting new project.
Bio: Mat Kaplan hosts and produces Planetary Radio, the weekly public radio and podcast series from the Planetary Society. Planetary Radio is heard on 150 stations across North American and beyond, as well as on Sirius XM satellite radio. The podcast can be found in the iTunes Store. Founded by Lou Friedman, Bruce Murray and Carl Sagan, the Planetary Society inspires and involves the world's public in space exploration through advocacy, projects, and education.
Today's sponsor: This episode of "365 Days of Astronomy" is sponsored by the National Radio Astronomy Observatory, celebrating Five Decades of Training Young Scientists through summer programs. Explore the hidden universe in radio at www.nrao.edu.
Transcript:
Kaplan: Greetings once again podcast listeners, I'm Mat Kaplan of The Planetary Society, where I host and produce Planetary Radio, our weekly series about space exploration. Today, November 9, 2009, would have been Carl Sagan's 75th birthday. No one else in the 20th century did more to open up science, to share the love of discovery or to express his sense of wonder as he considered the universe. Cosmos, the video series he brilliantly co-wrote and hosted, became the most popular program ever aired on American public television. Almost 30 years later, episodes of Cosmos reach a new generation via iTunes. The Sagan legacy lives on in many other ways and through many individuals. Just a few weeks ago, musician and video producer John Boswell premiered "A Glorious Dawn." This mashup of scenes from Cosmos featuring an Autotune of Dr. Sagan soon became the number one music video on Youtube.
[music – Carl Sagan's voice]
The sky calls to us
If we do not destroy ourselves
We will one day
Venture to the stars
Kaplan: You might have expected this kind of naked copyright violation to have resulted in an ominous threat of legal action, but not this time. And the reason is Ann Druyan. Ann was much more than Carl's wife. They collaborated on scores of projects for 20 years. Ann is the founder and CEO of Cosmos Studios, based in Ithaca, New York, not far from Cornell University, where Carl taught for many years. I recently spoke with Ann about the celebration getting underway today, including the announcement of LightSail, The Planetary Society's new solar sailing project. But first we talked about John Boswell's video tribute.
Kaplan: Tell me how you felt the first time you heard this.
Druyan: I was completely uplifted. It was so wonderful to see Carl in the episode in Cosmos where he tries to do his impression of the humpback whale song.
Kaplan: (laughs)
Druyan: And to see him Autotuned, to become the actual singer that he was in real life, he really did do a lot of singing. He was a complete music lover. And so he would have loved this, and I'm very glad that I didn't write one of those grumpy letters of copyright infringement to John Boswell, the extremely gifted mind and composer who created this, but instead I spontaneously wrote him an email saying, "Carl would have loved this. This is magnificent." You know, I've always said that science is a vision of nature and existence that is every bit as spiritual as any other devised by human beings. The only problem is we didn't have any good music!
Kaplan: (laughs)
Druyan: And when I first heard this, I thought to myself, John Boswell has actually given us a kind of hymn to reality. And the fact that it is hip-hop style, featuring Stephen Hawking, makes it just that much more astonishing. You know, I have this fantasy that somebody really gifted, someone who has some clout in the music world, would come to me and want to make an actual single of it, and of course it happened, just a week or two later, the wonderful Jack White, founder of the White Stripes and The Raconteurs and The Dead Weather, a really gifted musician, came to me and said, "Let's release this as a single." And so I'm very proud to say there's going to be an exquisite single released today, on Carl's birthday, and I'm told – I haven't seen the final version yet – but Jack and the people he worked with at Third Man Records, they are etching an exquisite copy of the Voyager Interstellar Record cover with those magnificent scientific hieroglyphics into the B side.
Kaplan: Oh my.
Druyan: So it's going to be beautiful and it'll be available starting today.
Kaplan: Let's talk about other ways in which the legacy lives on. And maybe come back to the Sail, for a moment. I keep thinking of how this sailing theme, whether it was the ocean or the universe, was so much a part of Cosmos, the series.
Druyan: Yes, and in fact we literally said in Cosmos, with Steve Soter, our co-writer, we ended one episode, "We have lingered too long on the shores of the cosmic ocean. It's time to set sail for the stars." And that's what I was thinking when it became clear that we had the resources to mount this expedition, this Wright Brothers Kitty Hawk-type enterprise of inventing and proving a new way of moving through the cosmos that we are serious at The Planetary Society. And at Cosmos Studios, my company which provided the principal support for the first 10 years of this project, we're really serious about giving our kids a future in which science and technology is used in its most wise and benign and forward-looking possible way. That's why I'm so thrilled and I just think if Carl were alive he would have been absolutely overcome at the notion that The Planetary Society is mounting its own space program, let alone its own launch.
Kaplan: Anything else that you'd like to share about this 75th anniversary?
Druyan: Yes, I'd love to tell you that I have a new podcast, which is called "At Home in the Cosmos with Annie Druyan," and it's going to be premiering on PodJockey next week. And we spent four days shooting it at my home in Ithaca, and it's hours and hours of stories about what it was like to make 20 trips around the Sun with Carl Sagan, and about some of the highlights of that experience and something about our family, and kind of the personal drama that we experienced together.
Kaplan: And you can count on us putting a link up at planetary.org/radio along with a link to Cosmos Studios and to the Solar Sail project of course. What about the series? Still going strong, isn't it?
Druyan: The series is just absolutely – (laughs) – it is just off-scale. When we were working on Cosmos back in the day, which would have been the late 70s, we had a kind of fantasy that it would have an enduring life, that it wouldn't be just something that people would see once and would live for a season or two, but that it would be a kind of… You know, one of the things we did when we were doing Cosmos was we avoided the cutting-edge up-to-the-minute latest, late-breaking science stories. Because we wanted to create a kind of history of how we found ourselves in space and time, how we established our coordinates as a species, and reconstructed our past. And our wildest dreams for Cosmos have been so far exceeded, I'm really proud that it speaks to every generation of the last 30 years, and really seems to have continuing power to influence and to excite and to awaken people to the beauty of nature.
Kaplan: I was looking through our library here at home, and trying to count the books by Carl that we have, and it's difficult because I'm not sure I'm looking at all the right sections. Demon-Haunted World is in philosophy, Contact is in fiction, Pale Blue Dot is in science, more of the legacy.
Druyan: Yes, exactly. I think that's just the tiniest tip of the iceberg, in a way, of some measure of how great Carl truly was. Because of course that doesn't include [the Dragon Beneath] and Shadows of Forgotten Ancestors and Comet, and the 600 refereed scientific papers. [Mat laughs.] And countless popular articles. I mean, the guy was just so in love with science and learning and teaching and discovering. I just think of him and I smile broadly, what a beautiful, happy, great life, lived so brilliantly and so much to the benefit of all of us.
Kaplan: Ann Druyan, longtime collaborator and life companion of Carl Sagan. You can hear much more of my conversation with Ann in this week's episode of Planetary Radio. We're on the Web at planetary.org/radio. I'm Mat Kaplan, thanks very much for listening.
(music – Carl Sagan's voice)
A still more glorious dawn awaits
Not a sunrise, but a galaxy rise
A morning filled with 400 billion suns.
The rising of the Milky Way.
A still more glorious dawn awaits
Not a sunrise, but a galaxy rise
A morning filled with 400 billion suns.
The rising of the Milky Way.
The surface of the Earth
Is the shore of the cosmic ocean
Recently we've waded a little way out
And the water seems inviting.
End of podcast:
365 Days of Astronomy
=====================
The 365 Days of Astronomy Podcast is produced by the New Media Working Group of the International Year of Astronomy 2009. Audio post-production by Preston Gibson. Bandwidth donated by libsyn.com and wizzard media. Web design by Clockwork Active Media Systems. You may reproduce and distribute this audio for non-commercial purposes. Please consider supporting the podcast with a few dollars (or Euros!). Visit us on the web at 365DaysOfAstronomy.org or email us at info@365DaysOfAstronomy.org. Until tomorrow…goodbye.