<iframe src="https://youtu.be/Jx6iGCdF5Xw"></iframe>
The #DailySpace brings you the universe at 10am PST / 1pm EST / 5pm GMT on twitch.tv/CosmoQuestX. Today's #spacenews includes: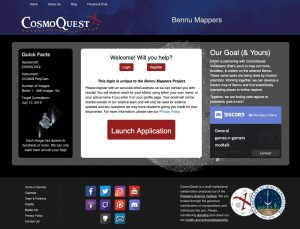 Dr. Pamela shows us how to use CosmoQuest's app Bennu Mappers, which helps the science crew of the OSIRIS-REx mission decide which rocks to bring back on their sample return mission from the Asteroid Bennu!

https://agupubs.onlinelibrary.wiley.com/doi/abs/10.1029/2019GL082252
https://www.cbsnews.com/news/mass-on-moon-discovered-baylor-university-scientists-metal-asteroid/
Guest Dr. Georgina Kramer from the Planetary Science Institute discusses the odd mass found under the Moon's surface and how it could have happened
https://www.nature.com/articles/s41561-019-0377-8
Guest Dr. Jordan Steckloff from the Planetary Science Institute discusses the impact events on the asteroid Vesta
Join us tomorrow for more Daily Space news!