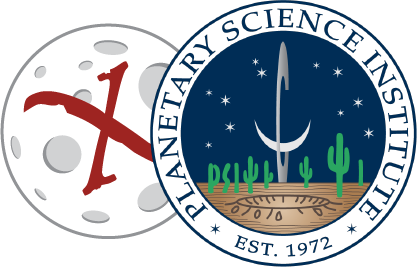 CosmoQuest is produced out of the Planetary Science Institute, a 501(c)3 non-profit, dedicated to exploring our Solar System and beyond. We work in partnership with many people & organizations.
Build Team
Dr. Pamela L. Gay, Program Director & Executive Producer
Nancy Graziano, Program Manager
Beth Johnson, Content Manager
Ally Pelphrey, Production Manager
Annie Wilson, Chief Rocket Herder
Erik Madaus, Technical Writer
Gordon Dewis, Server Wrangler
Moderator Team
Ambious, Astro_yyz, dpi209, gilliangeorgine, Guido, Hexacosichoron, MsBrickKitten, R.Instro, Veronica_Cure, Walker
365 Days of Astronomy
Avivah Yamani, Project Manager
Richard Drumm, Audio Engineer
Avivah Yamani, Content Manager
Astronomy Cast
Fraser Cain & Pamela Gay, Hosts
Nancy Graziano, Project Manager
Richard Drumm, Audio Engineer
Ally Pelphrey, Video Engineer
Beth Johnson, Content Manager
Daily Space
Pamela Gay, Beth Johnson, & Annie Wilson, Hosts
Pamela Gay, Project Manager
Ally Pelphrey, Production Engineer
Pamela Gay, Beth Johnson, Erik Madaus, Gordon Dewis, Elad Avron, David Ballard, Writers
Beth Johnson, Content Manager
Visión Cósmica
Andrés Plazas Malagón & Nicolás Garavito-Camargo, Hosts
Andrés Plazas Malagón, Project Manager & Content Manager
Weekly Space Hangout
Fraser Cain, Lead Host
Nancy Graziano, Project Manager & Content Manager
Additional contributions by…
Additional funding provided by…
Cosmic Codas ($100)
Sometimes, after the credits are over, a movie surprises with more of the story. You are that shock of joy.
Those who Stay for the Credits ($50)
We are just specks in a vast universe, and our time is limited, but your name can appear forever in the credits.
Bill Nash
David Truog
Helge Bjorkhaug
Janelle Duncan
Kevin Parker
Richard
Timelord Iroh
Page Turners ($20)
No matter where you are on Earth, we all share the same corner of the Milky Way Galaxy… and of the internet.
Andreas Siegel
cacoseraph
Greg Thorwald
Jordan Elkurdi
Kyle Carmichael
Mark Sykes
Mark Walker
William Fincher
Constellations ($10)
You are the bright stars that make up our sky. You are seemingly countless and give us life.
Bob the cat
Breck Young
Don Mundis
Elad Avron
Fred Brehm
Gordon Dewis
gryffdawg
Jan Yu
Jeff Harris
Jim Schooler
Joseph J. Biernat
OntheDiagonal
Paul Nash
Peter Richards
Robert W Farley
Sebastian Schipper
Wayne Johnson
Silliness and Safety Patrol ($5)
Thank you for all you do. Together we are running with space and bringing silliness to science.
Andrew Thomson
Astrohead
Beth Johnson
Brett Ryland
Craig Landon
Dana Nourie
Dianne Philippon
Donald McCoy
Ed Chubin
Eric Schneider
Gabriel Gauffin
Glenn McDavid
goert reve
Gold
Harald Brabenetz
Horace A Smith
Ian Furqueron
Jako Danar
Jeff Takacs
Joe Hollstein
Jonas Sadauskas
Jonathon poe
Jörn Albert
Julie Hansen
Katrina Ince
Kerbal01
Laura Kittleson
Les Howard
Malcolm Rogers
Michael Cassidy
Myth Town
Nicholas E Maloney
Octa9on
Paul Fischer
PrettyFinch
Roy & Diane Corbin
Russell Hart
Silvan Wespi
StarStryder
Stephen Jung
Steven Manfred
Stuart A Bell
Sufficiently Agitated
Tanya Kuzara
Thomas Bouda
Tom Van Scotter
WandererM101
Pillars of Creation ($3)
You are not only the pillars of our creation but the pillars of our community.
Edward Roberts
Eric Couch
Jon Pennycook
Kevin Kell
Linda Sadiq
Tim Eggenberger