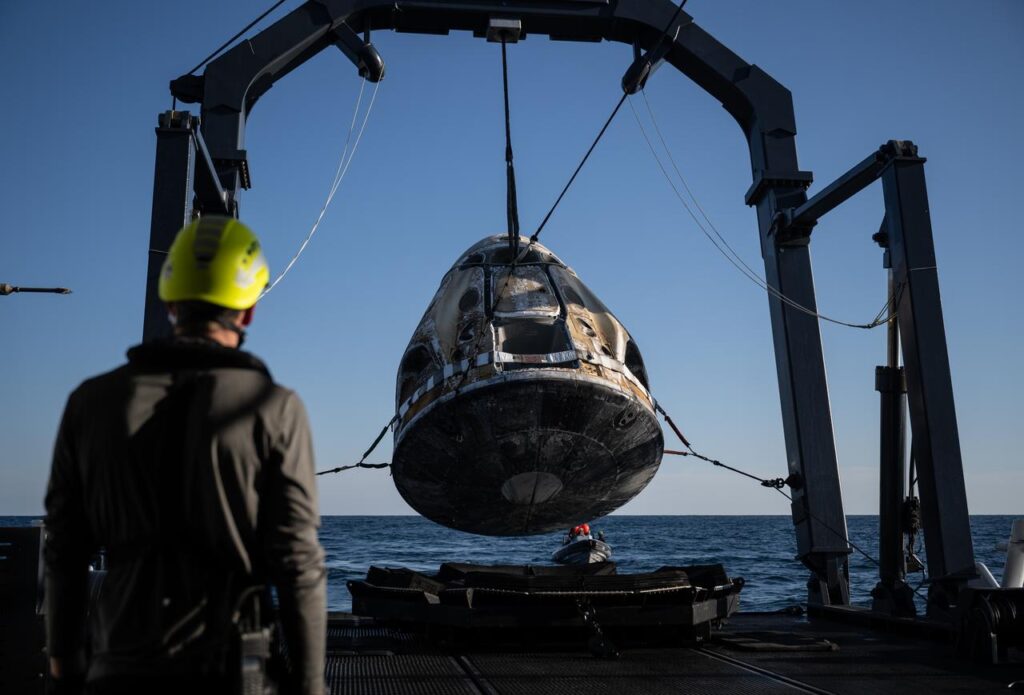 SpaceX continued a busy week with the return of the four astronauts of the Crew 4 mission from the ISS to Earth on October 15. Breaking from routine, Crew Dragon Freedom undocked the same day as its deorbit and returned to Earth only five hours after undocking.
Crew Dragon undocked just after noon Eastern on the 15th. Just before 16:00 Eastern, the deorbit burn was completed.
Unlike Soyuz, Crew Dragon does its deorbit burn without the service section attached, leaving it to return uncontrolled after several months of atmospheric drag. The reason this is done is to avoid any problems that could result from separating the trunk after the burn, such as interfering with the heat shield during re-entry.
Freedom splashed down off the coast of Jacksonville, Florida, at 16:55 Eastern, within sight of the waiting recovery vessels. The ship lifted it out of the water and each crewmember was brought out in turn.
With the landing, NASA's Kjell Lindgren has now spent 311 days in space on two missions, and ESA's Samantha Cristoforetti 369 days, making her number two on the list of most time spent in space by a woman. Jessica Watkins completed her first trip into space and has already set a record for the most time in space by an African-American woman at 170 days. Rounding out the crew was Bob Hines, who was on his first mission in space.
Finally, Russia also launched two rockets last week, one carrying a commercial payload and the other a military payload.
More Information
SpaceX press release