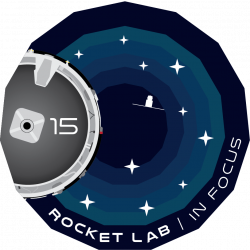 On October 28th at 21:21 UTC, Rocket Lab launched an Electron for the "In Focus" mission from Launch Complex 1 on the Mahia Peninsula in New Zealand.
Onboard were ten smallsats, nine of which were SuperDoves which will join Planet's constellation of Earth-imaging satellites. The tenth satellite was Canon Electronics' CE-SAT-IIB, a technology demonstration of an ultra-high sensitivity camera that is able to take night images of Earth.
The patch for this mission resembles a camera lens, which is fitting given the payload of fancy space cameras. Towards the center is a small satellite — probably the Canon experimental sat — among ten stars, one for each satellite onboard. To the left is what appears to be the bottom of Rocket Lab's kick stage, which is the final stage of the rocket where all of the satellites are deployed from. Also, this patch isn't quite a circle. It's actually a regular pentadecagon — one side for each of Rocket Lab's 15 missions.
More Information