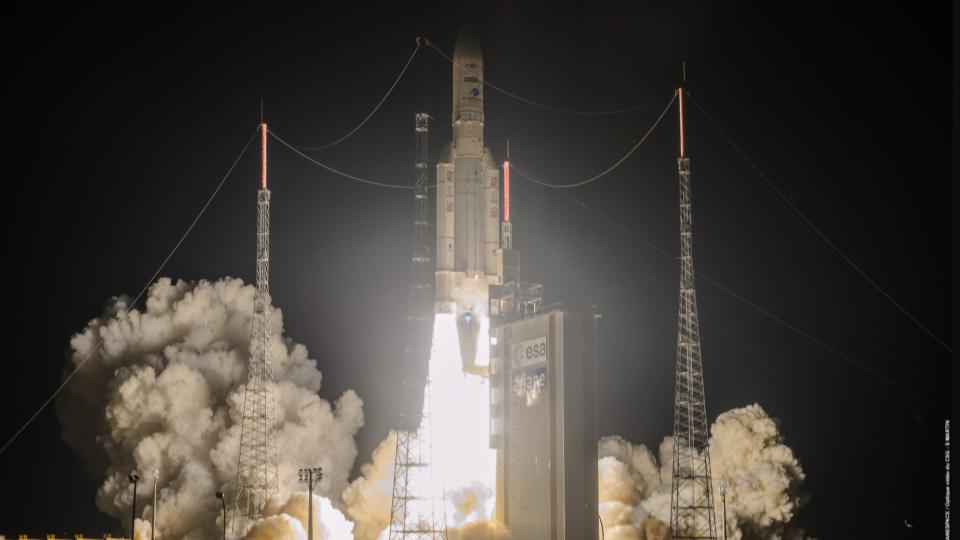 Arianespace launched an Ariane 5 rocket on Saturday, August 15th at 22:04 UTC.  There were three payloads on board: Galaxy 30, MEV-2, and BSAT-4b.
According to the launch press kit from Arianespace, Galaxy 30 is the first replacement satellite in Intelsat's North American Galaxy fleet refresh. It will eventually replace Galaxy 14 in its current slot at 125 degrees west in early 2021.
BSAT-4b is a backup to the BSAT-4a satellite launched in September 2017. It will provide Direct-to-Home (DTH) television for 4K/8K ultra-high definition (UHD) video distribution across the Japan archipelago. It has a planned service life of at least fifteen years.
MEV-2, short for Mission Extension Vehicle 2, was supplied by Northrop Grumman for SpaceLogistics LLC. It is the first satellite servicing vehicle launched by Arianespace. The MEVs are designed to latch onto a satellite that is out of propellant but is otherwise operational and extend the useful life of the satellite by using its thrusters to keep the satellite in its proper orientation. After about five years, the MEV will move the satellite into a graveyard orbit, undock and move on to another satellite that needs its services.
In the case of Intelsat 10-02, MEV-2 will dock with the satellite and help with station keeping (keeping the satellite where it's supposed to be) for the next five years or so, before the satellite is moved to the graveyard orbit, after which MEV-2 will be able to move on to help another satellite.
More Information