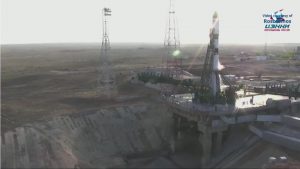 Finally, Roscosmos launched the Progress MS-14 resupply mission on April 25 at 01:51 AM UTC from Baikonur.
Progress MS-14 reached the space station after a quick flight of only three hours and twenty minutes (just 2 orbits of the ISS). The craft docked automatically at the aft port of the Zvezda Service Module, part of the ISS' Russian segment.
Onboard was two and a half tons of cargo, which consisted of food, water, oxygen, fuel, and equipment. Among the cargo delivered were fresh oranges and grapefruit for the crew.
More: