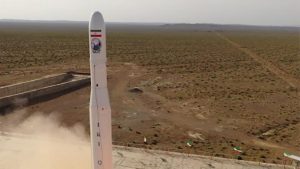 Iran launched their first military satellite on April 22nd at 03:59 AM UTC. Noor-1 was launched into orbit by Iran's Revolutionary Guard Corps on the first flight of a Qased rocket.  
Iranian launches are fairly rare with only a handful occurring each year.  Due to current sanctions by the United States, the US State Department condemns these launches and essentially states that Iran is furthering development on their ballistic missile program under the guise of peaceful aerospace applications. Because this was a military mission from Iran, not a lot of details are known about the satellite or the launcher.
Here's what we do know: Noor-1 is a six unit cube-sat that probably weighs between six and ten kilograms, was built entirely in Iran of Iranian components, and is in low earth orbit.  The launcher is thought to be a modified missile which uses both liquid and solid fuel and was launched from a transporter-erector-launcher, a specialized vehicle used for transporting and launching missiles.
More: