The #DailySpace brings you the universe at 10am PST / 1pm EST / 5pm GMT on twitch.tv/CosmoQuestX. Today's #spacenews includes the following stories: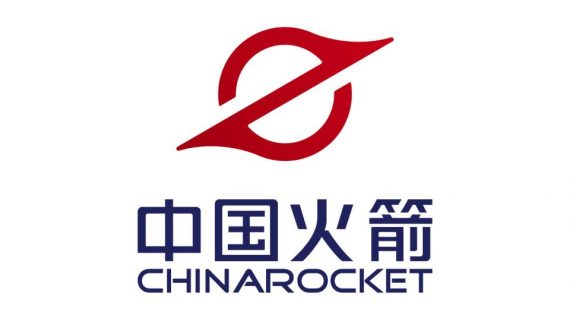 17th of August @ 04:11 UTC – Jiuquan Satellite Launch Center -NO LIVE STREAM
Smart Dragon – First Flight!! LEO – Will launch 2 earth observation satellites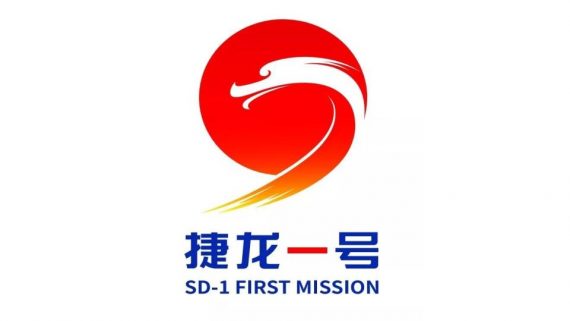 Interesting note for western viewers: the company building this may be primarily civilian, but it was a direct spin-off from a state-owned company, which was a direct spin-off of the government space agency. There is NO firewall between China's various governmental & civilian efforts in certain areas, something that's really not appreciated by much of the rest of the casual viewing world.
We often joke about 'the military-industrial complex': China LIVES this principle to the hilt. It is the NORM for people who are general officers there to "retire" & take over CEO positions in ostensibly civilian companies there… not usually true in Western-style economies.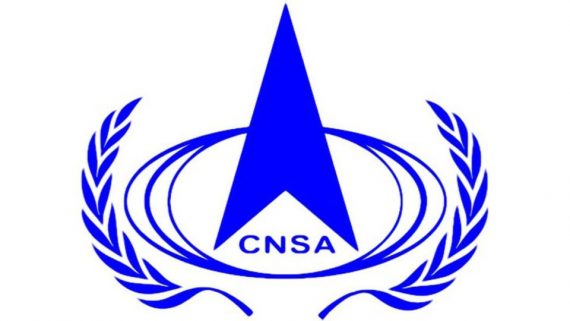 Chinasat-18 went up on a Long March 3B on August 19 at 12:03 PM UTC
Chinese authorities announced that the satellite, intended to provide communications for in-flight airline passengers & ground-based consumers in the region, suffered an unspecified "abnormality," the cause of which is being investigated. US military tracking data suggests the satellite made it into a good GTO, so the launch itself seems successful. Previous satellites built on the same base platform had experienced mission-ending problems w/their solar panels on two occasions. ('06, '08)
No official launch video, but this is a pretty good picture of the launch.
The Long March 3B uses mostly N2O4 & Unsymmetrical Dimethyl Hydrazine (UDMH) which gives the smoke the yellow, orange and red colors. These two compounds are toxic and you really don't want to be ANYWHERE near them. So, why is it still used?
There are two main types of rocket fuel: solid and liquid. Solid fuel tends to be stable and can be stored in the rockets for long periods, but can only be ignited once. Liquid rocket fuel usually can't be stored in the rocket for long periods and can be reignited. UDMH combines the long-term storage of solid fuel with the ability to throttle and reignite of liquid fuel.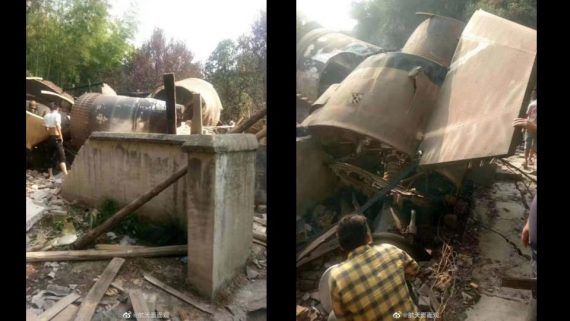 And because it's China, rocket parts sometime land on houses.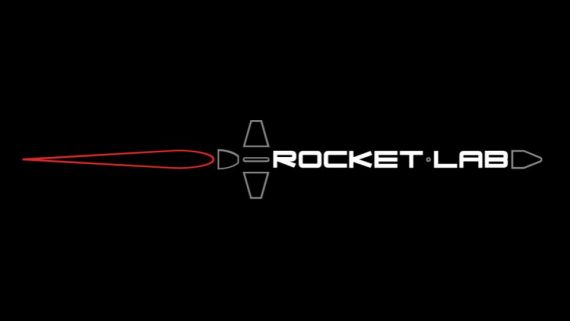 Rocket Lab – "Look Ma, No Hands" (Unseen Labs, Spaceflight) on Electron
August 19th @ 12:12 PM UTC
ELECTRON / ROCKET LABS launched at 1212 GMT / 0812 EDT / 0012 local on 19AUG19
8th Electron launched, 7th in a row to successfully place payload in LEO, 39 total sats deployed
Included a "black box" on the 1st stage (named Brutus) designed to record re-entry & descent data for future recovery/reuse operations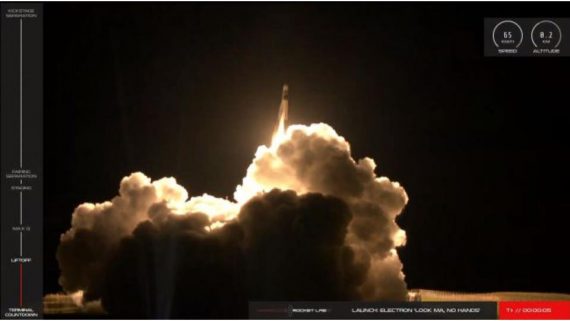 Satellites launched:
1 x BlackSky (Seattle, WA) – 56 kg BlackSky Global-4 = Last of four in the initial constellation of Earth-observation/commercial intel satellites; capable of taking ~1,000 color images daily at resolution of ~1 m; the final orbit for the Curie kick stage which deployed all 4 sats was determined by this satellite, as it was placed in specific relationship to Global-3, launched by Electron earlier this year; some 20 more are under construction, the next four of which are expected to launch aboard India's new Small Satellite Launch Vehicle (SSLV) some time near the end of the year.
1 x UnSeenLabs (France) – 6 unit CubeSat called BRO-1, about the size of a briefcase = first of a constellation planned to provide maritime tracking & commercial counter-piracy capability; company reported via Tweet that the satellite was already operational shortly after Monday's launch,claimed bragging rights as the 1st private French CubeSat operators to achieve orbit.
2 x USAF – 6 U CubeSats = Launched as part of the Air Force's "Pearl White" technology demonstrator program; In a statement, the A.F. said that "The demonstration will test new technologies including propulsion, power, communications, and drag capabilities for potential applications on future spacecraft;" the CubeSats will be operated for the USAF by Tiger Innovations, a company in the Northern Virginia suburbs of D.C.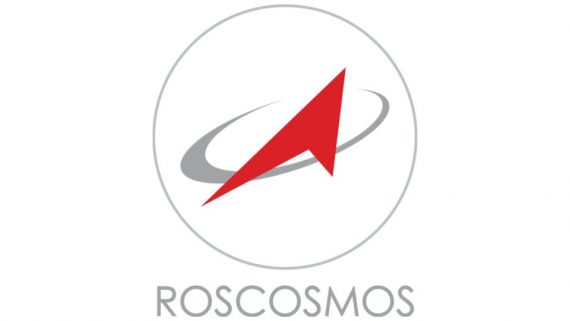 Roscosmos – Soyuz MS-14 (Test Flight) on Soyuz-2 22 – August @ 3:38 UTC – Uncrewed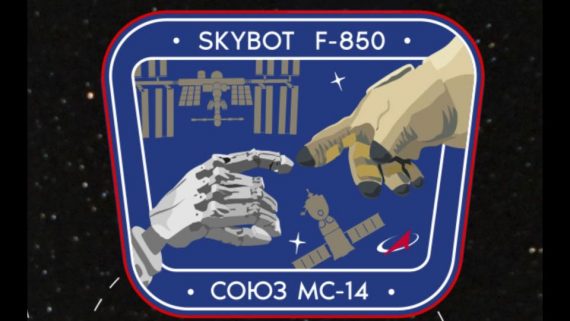 Soyuz FG uncrewed module is oriented on the pad in its azimuth of flight, restricted which launch sites it can use. The newer Soyuz 2 model (crewed) uses a roll maneuver once in flight to remove this need, however this can trigger (& has done so!) the auto-escape system which was originally designed w/the FG model in mind, & was not designed to account for the extra motion. This flight tests a possible fix-action which to prevent the auto-trigger-on-roll phenomenon, & if successful will be used on future crewed missions as early as next year (2020).
(See links below for NASA astronaut Nick Hague's & Russian cosmonaut Alexey Ovchinin's wild ride)
In addition, new navigation & propulsion systems will be tested on this Progress MS module which will provide data to be included on the new Soyuz GVK uncrewed module which is scheduled for first flight in 2022.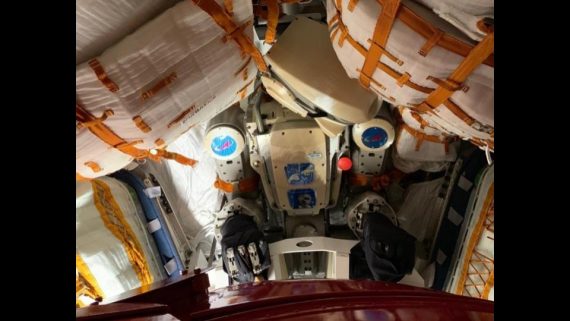 Finally, the mission has stripped out all crew-specific hardware … including toilet… to make room for far more cargo than usually flies on a Progress mission like this one.
***UPDATE***Typical cargo mass = ~2,230 kg, actual = 1,450 pounds / 660 kg of cargo, per https://blogs.nasa.gov/spacestation/tag/international-space-station/
***NEW STUFF***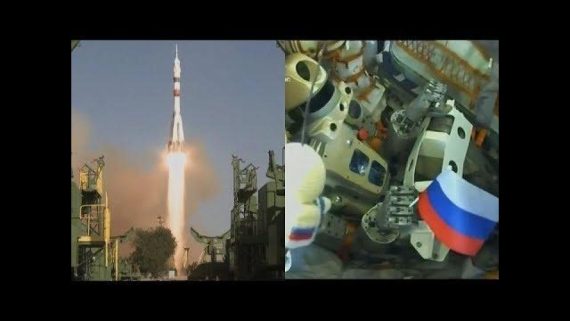 We watched the Roscosmos stream last night, so we missed out on English commentary.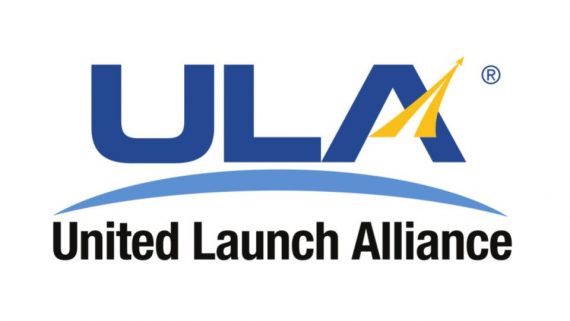 LA GPS 111 SV02 (Magellan) on Delta IV Medium 22 August @ 13:00 – 13:27 UTC / 0900 – 0927 EDT
Details:
29th & last Delta 4 Medium to launch (Atlas V renders it largely redundant)
Will launch in 4,2 configuration (4 meter payload shroud + 2 srbs)
207 ft /63.1 m tall, 2-stage hydro-lox propulsion (LH2 + LOX)
SRMs = Northrop Grumman Innovation Systems (formerly Orbital ATK) solid motors
Main engine = Aerojet/Rocketdyne RD-68
Satellite is planned to live some 25% longer on-orbit than legacy versions, and will include a dedicated civilian channel L1C compatible w/other global Sat-Nav systems, such as the European Galileo system.
The military is happy about it because the new satellites offer greater accuracy than the older GPS, and are much more resilient to jamming efforts & interference.
***UPDATE*** The Delta IV Heavy will continue to fly until the new Vulcan-Centaur comes online circa 2021. That said, the Boeing factory that makes Delta rocket core stages has now swapped over to production of the V-C. https://spacenews.com/atlas-delta-rocket-factory-begins-transition-to-vulcan-centaur/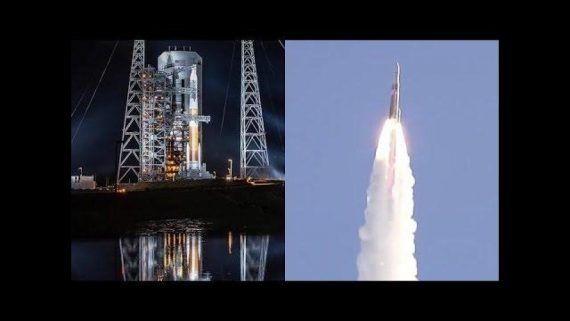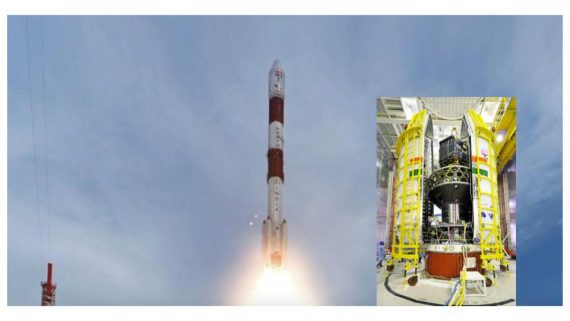 Image: Artist's impression of ISRO's Small Satellite Launch Vehicle (SSLV) on launch.
Inset: the payload opened for view to display potential launch configuration. Credit: ISRO
Lots of news involving small satellite launches & launch providers: here's Part One!
Seattle-based Spaceflight Inc., sister company to BlackSky Labs mentioned earlier, has announced that they are now offering rides on India's brand new SSLV which has yet to make its 1st flight. The launcher is operated by New Space India Limited (NSIL), a new commercial off-shoot of the India Space Research Organization (ISRO). It is about twice the size & mass of Rocket Labs Electron and about the same as the VEGA operated by Arianespace, capable of placing multiple payloads (up to 500 kg) into LEO.
NSIL's first contracted commercial customer, Spaceflight has booked space for the next four BlackSky Global satellites to launch NET Nov of this year on the vehicle's second demonstration flight SSLV-D2. SSLV-D1 will support an as yet unknown military payload.
The SSLV will likely compete directly w/the Electron (RL), Antares (Northrop Grumman, nee Orbital-ATK), and the VEGA (ESA & the Italian Space Agency) and follows on the designs & operational successes of the ISRO's largely home-grown GEO Satellite Launch Vehicle (GSLV) & Polar Satellite Launch Vehicle (PSLV). Like the Electron, it will support multiple satellite deployments, including a limited number of multi-orbit deployments per launch.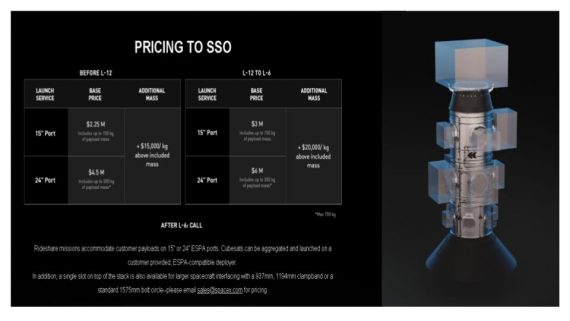 SpaceX Base price guide for dedicated smallsat launches
Inset: Artists render of a smallsat dispenser capable of multiple payloads
CREDIT: SPACEX https://www.spacex.com/smallsat
Small-sat News PART Two:
SpaceX announced earlier this month that they would soon begin offering dedicated, regularly scheduled launches of their F9 rockets from Vandenberg AFB, CA, indicating that the company is also highly interested in serving a ballooning small-sat market. These launches will go for the price of $2.25 million for payloads up to 150 kg, and $4.5 million up to 300 kg to many sun-synchronous orbits.
The key development here is that there is no "primary" customer for the smallsat partner to wait on: these missions go when scheduled, & if you have a ticket, YOU GO!
From SpaceX's website:
"With SpaceX's SmallSat Program, if you are ready to fly during the scheduled launch period, you will fly." [emphasis added] "Dedicated rideshare missions will not be delayed by co-passenger readiness. Passengers who run into delays that prevent them from launching can apply 100% of monies paid towards the cost of rebooking on a subsequent mission. Depending on timing of change rebooking fees may apply."
Given that small sat business is predicted to quadruple over the coming decade vs. the previous one ($42.8B vs. $12.6B), it's no surprise SpaceX and others are looking to corner a share. Fortunately for Rockett Labs (whom SpaceX's price point undercuts) and other launch providers, those companies launch to other non-sun-synchronous orbits. Since orbits other than SS from VAFB are not normally very practical, there is probably room to go around, nevertheless, this is a powerful offer.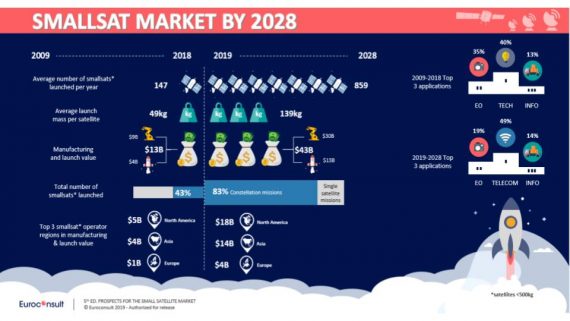 IMAGE CREDIT: Euroconsult
PART Three:
Given the predicted uptick in the smallsat market, it's no wonder the Arianespace is ALSO announcing a new program aimed directly at securing themselves a share. In a move not previously seen in the industry, the company has announced its GO-1 Program, which will provide smallsat customers with dedicated service directly to GEO.
Normally, rockets lift their GEO-bound payloads into LEO, then use an upper stage to get into a transfer orbit (see image here: https://en.wikipedia.org/wiki/Geostationary_transfer_orbit#/media/File:Animation_of_EchoStar_XVII_trajectory.gif). From that point, the satellite is on its own to circularize its orbit and get to the correct position over the Equator.
However, using its newly developed Multi-Launch Carrying system aboard the new heavy-lift Ariane 64 rocket (Ariane 6 + 4 SRBs), Arianespace will be able to offer launch services DIRECTLY to GEO orbit, without the use of a transfer orbit (GTO), and with greatly reduced onboard fuel requirements… mass requirements that have previously denied higher orbits to smaller satellites, and reduced the on-orbit lifetimes of even large satellites.
Currently, most commsats take weeks to do this, using much of their onboard propellant in the process, and microsats simply do not have the fuel capacity to make the trip as is. But in this configuration, Arianespace should be able to lift small satellites from tiny CubeSats to those up to a few hundred kg directly into their desired orbital slots using a multi-burn flight profile lasting a course of some six hours.
According to the company, the first flight will be in 2022 & 4,500 kg of payload space is available for that 1st launch.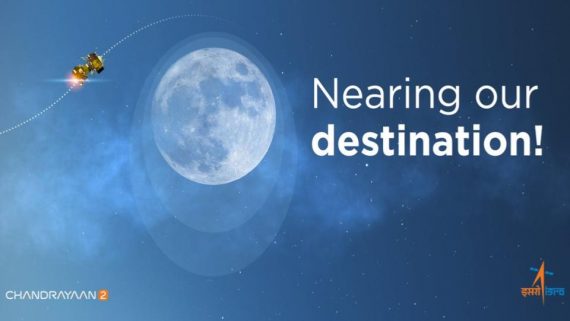 SMALL SATS: BONUS ROUND!
Speaking of ISRO (we did earlier): there's good news!
Around midnight EDT on Monday night / Tuesday morning, the Chandrayaan 2 spacecraft executed a complicated 29 minute-long maneuver intended to gently slip from the primary influence of Earth's gravity, to that of the Moon. The "Moon Vehicle" — its name in Sanskrit — had the ISRO's "hearts almost stopped today till it completed its job," according to the agency's chairman at a press conference afterwards.
Going forward, the craft will perform a series of maneuvers designed to circularize the orbit over the Lunar poles about 100 km above the surface. The actual landing is expected to take place 07SEP19.
Join us tomorrow for more Daily Space news!