The #DailySpace brings you the universe at 10am PST / 1pm EST / 5pm GMT on twitch.tv/CosmoQuestX. Today's #spacenews includes many stories that
this week reminded us that rocket science is hard!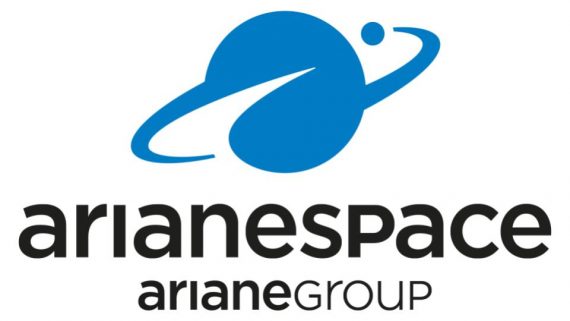 Originally scheduled for July 5, then pushed back to July 7, VV15 finally took off on JUL 10-11 (depending on where you were in the world), carrying Falcon Eye 1, a United Arab Emirates satellite.
It… did not go well.
Approximately 2 minutes after launch, shortly after the second stage ignited, a launch anomaly occurred. That anomaly resulted in total loss of the mission.
This launch did set an unfortunate record. It's the largest ever space insurance loss. The combined insurance policy for the rocket and satellite totalled 369 million euros ($415.57 million)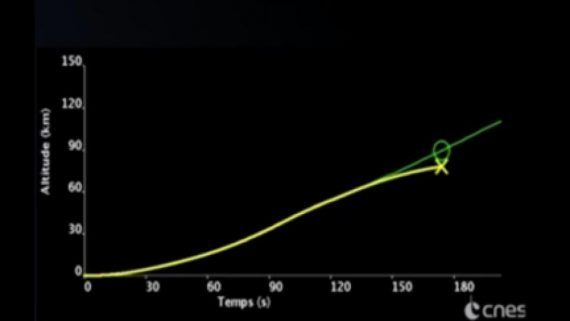 This is the Altitude graph from the livestream. Temps, or time, is on the x-axis. 120 seconds after launch the altitude is on-track, but at 180 seconds something is definitely wrong — the rocket and payload are below the projected path.
Arianespace immediately set up an inquiry and as of last night, there was no news on what had been discovered. We may not know the results of the inquiry for awhile.
ISRO's Chandrayaan- 2 didn't launch.
About an hour before launch, "a technical snag was observed in the launch vehicle system." No new launch date has been officially announced by ISRO. Earliest launch date would be today!
This would be only the 4th launch of the GSLV MkIII
Starhopper "explosion"
Static fire occurred, several minutes later a large fuel flare under and around the vehicle was seen. Water fire suppression system turned on and put the fire out.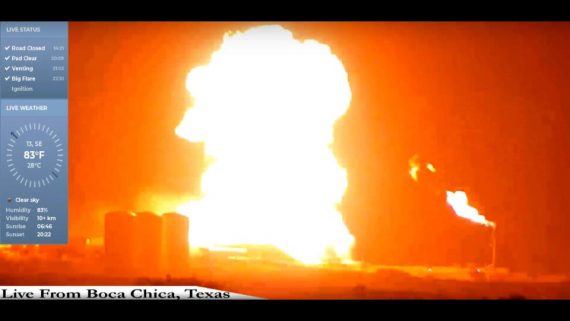 Summary from Thomas Burghardt:
Good Static Fire (5 secs).
Methane Discharge ignited.
Hopper detanked and powered down fine.
Looks totally OK this morning.
Hop schedule TBD.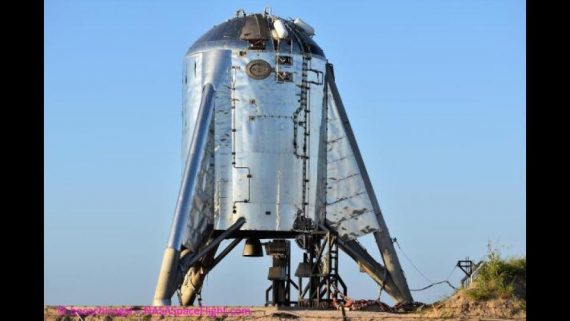 This picture from BocaChicaGal was taken this morning. So yes, STARHOPPER IS OKAY.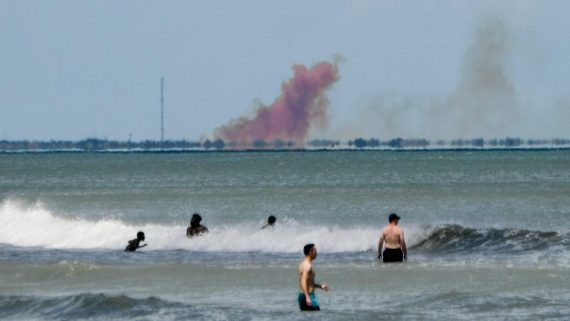 https://forum.nasaspaceflight.com/index.php?topic=47120.msg1966889#msg1966889
A bit more than a week ago, but still worth an update:
On April 20th, SpaceX performed a ground test of the Crew Dragon launch abort system. There was an anomaly and the whole vehicle was destroyed. Smoke could be seen from Cocoa Beach, which is 22km or 14mi away from Cape Canaveral.
So, what went wrong?
Basically, they think that the valve that separates high-pressure helium from the N2O4 oxidizer chamber may have failed, allowing some of it to push back into the helium chamber. This would have caused the type of boom they witnessed during the test.
They are now in the process of replacing the check valves on all the high-pressure connections for the Super Dracos with burst discs. These are one-time use pieces, but they don't have the tendency to lose good seal in low pressure environments as check valves sometimes can. They basically separate whatever is on either side of the disc until one side or the other reaches the disc's failure rating, at which point it bursts, allowing the needed flow. There are no moving parts, & if not activated can generally be used repeatedly. They are also generally easier to replace & maintain than a valve.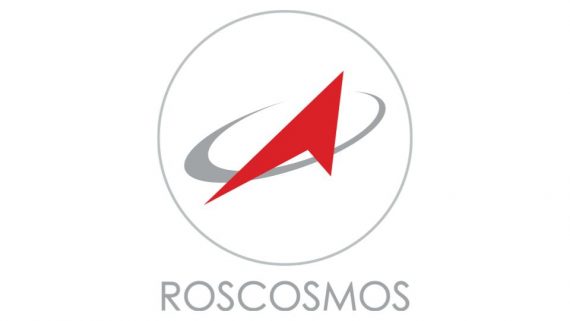 GUESS WHAT DID LAUNCH SUCCESSFULLY!
The successful launch of Spektr-RG? I've been so out of it lately…
https://spaceflightnow.com/2019/07/13/russia-launches-international-x-ray-astronomy-mission/
This one will be orbiting the Earth-Sun L2 point for ~7 years, the Lagrange point which currently hosts the GAIA probe. In the past this region has been home to half a dozen different spacecraft, including NASA's WMAP, ESA's Herschel and Planck observatories, and CNSA's Chang'e 2. It will one day be home to several other missions, including the JWST (once we've passed through the upcoming ice age, lol).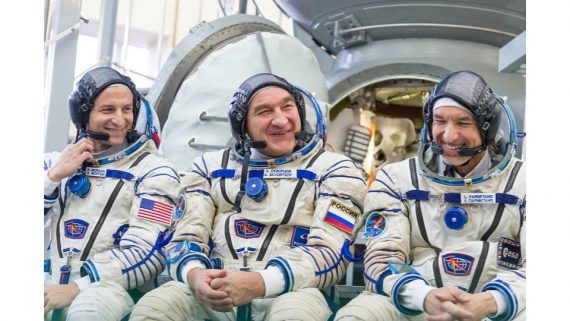 MORE HUMANS (and a toilet!) ARE GOING TO SPACE!!!
Expedition 60 is going to the ISS on July 20 @ 16:28 UTC // 12:28 PM Eastern // 9:28 AM West Coast
Fun fact: Russia number their missions differently than NASA does. So what we count as Expedition 60, Russia is all "no, it's ISS 59S." Same flight, same people.
Bad news: we *probably* won't be streaming this. But, because there is an American on this flight, NASA will have coverage.
This will be for ISS 59S to the ISS: https://en.wikipedia.org/wiki/Soyuz_MS-13
(Complete w/mission patch.) The Russians number their missions slightly differently, thus the confusion in numbers between the last mission to return from the ISS (Exp. 59) and this crew heading up (ISS 59S) Christina Koch, a member of EXP 59, will be heading back to Earth when this Soyuz capsule & crew returns, in place of Andrew Morgan who will remain on the ISS.
Expedition 59 was the 59th Expedition to the International Space Station. It started with the arrival of the Soyuz MS-12spacecraft carrying Aleksey Ovchinin, Nick Hague and Christina Koch, joining Oleg Kononenko, David Saint-Jacques and Anne McClain who transferred from Expedition 58. The expedition formally began on March 15, 2019 (March 14 in the Americas).[1] Ovchinin and Hague were originally meant to fly to the ISS aboard Soyuz MS-10, but returned to Earth minutes after takeoff due to a contingency abort. The expedition formally ended with the undocking of the Soyuz MS-11 spacecraft carrying Kononenko, Saint-Jacques and McClain on 24 June 2019; Ovchinin, Hague and Koch transferred to Expedition 60.
So, who's going up?
Aleksandr Skvortsov from Russia
Luca Parmitano from Italy
Andrew R Morgan from USA/NASA
This will be Morgan's first spaceflight! Fun fact: the backup crew for this flight includes a Japanese astronaut!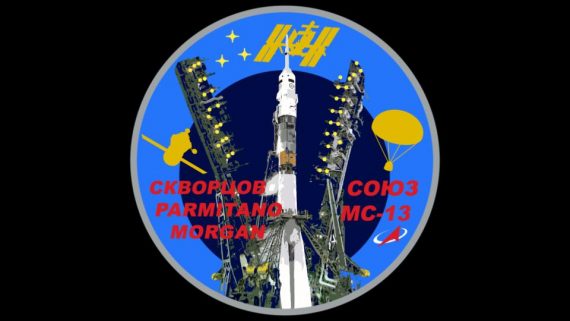 And here's the flight patch! Most of the symbols look like they're related to the launch. The Soyuz crafted launched on the Soyuz rocket, the Soyuz in flight, the ISS, and the Soyuz command module returning to earth. There's 3 stars, but I'm not sure of their significance — maybe one for each nation on this flight?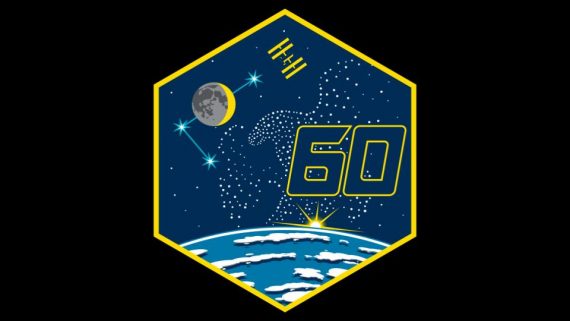 Here's Expedition 60 patch.
It's pretty, but I'm not going to try to decode the symbolism.
July 21 @ 23:35 UTC // 7:35PM Eastern // 4:35PM West Coast
CRS SpX-18
More bad news: I won't be streaming this one, either.
Launching from SLC-40 at Cape Canaveral AFS, it will be SpaceX's 20th launch of the Dragon space capsule, 18th under the Commercial Resupply Services contract w/NASA. (They flew two "test" missions prior to CRS 1.) This booster (B1056) is the same that launched the previous CRS-17 mission to the ISS during its maiden flight, landing out in the Atlantic on the OCISLY. For this mission it is slated to land at LZ-1 back at the Cape.
https://www.nasaspaceflight.com/2019/07/falcon-9-static-fire-test-crs-18/
Among other supplies, experiments & hardware being delivered is a third docking adapter ring to be mounted on the ISS to accommodate future US Commercial Crew vehicles.
"As its numerical designation suggests, IDA-3 is the third of the International Docking Adapters. The IDA's are built in order to convert the older shuttle era Androgynous Peripheral Attach System-95 (APAS-95) style docking systems on the ISS's Pressurized Mating Adapter-2 and 3 (PMA-2 and PMA-3) docking ports, into the newer International Docking System Standard (IDSS) style."
The adapter will be installed via the Canadarm.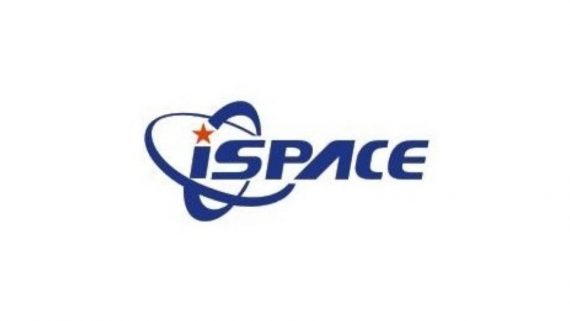 StarCraft Glory Space Technology
星际荣耀空间科技 Early Stage Venture
https://www.crunchbase.com/organization/ispace-752d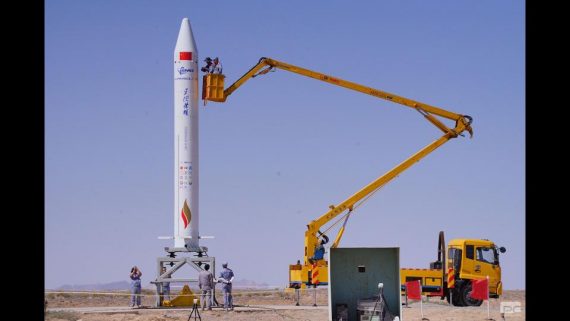 THIS IS A PHOTOGRAPH from their last suborbital test
http://www.i-space.com.cn/index.php?m=content&c=index&a=show&catid=15&id=4
Join us tomorrow for more Daily Space news – and keep mapping Bennu!