As everyone reading this here undoubtedly knows, CosmoQuest hosts numerous Citizen Science projects that range from marking craters to identifying places on Earth using photos taken from the ISS.
What you may not realize is that we are closely affiliated with another ongoing citizen science research project, SciStarter. We would like to encourage all of our followers and citizen scientists to register with SciStarter to take advantage of all the benefits their platform offers. And you will be helping them do THEIR science to boot, making this a win-win proposition for all!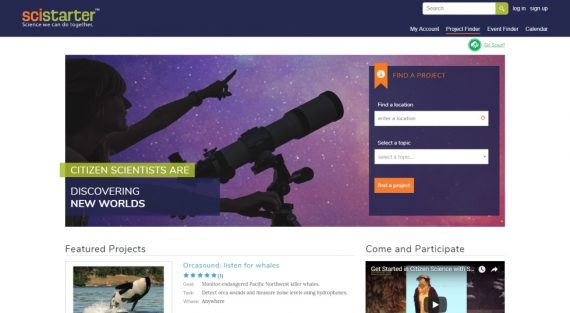 What is SciStarter you ask? In a nutshell, SciStarter is a citizen science project aggregator that helps citizen science volunteers identify and participate in registered and vetted projects that are in need of help. Additionally, projects listed on SciStarter are eligible for promotion via their social media network and blog, as well as on sites Discover Magazine, Astronomy Magazine, and PBS Kids to name a few.
Using SciStarter's suite of smart web tools, anyone interested in participating in citizen science projects in any field can find, join, and track their project contributions through the SciStarter platform — this includes ALL of CosmoQuests projects. SciStarter has thousands of active citizen science projects already vetted and registered, ranging from Agriculture, to Health and Medicine, to Social Sciences, and, of course, Astronomy and Space — there is bound to be something of interest to virtually everyone. Finding a registered project is easy using the Project Finder which includes key-word fields as well as pull-down filters. Additionally, every project on SciStarter provides complete information about it, including its intended goal, what tasks are required of volunteers, and how to join the project, so as a volunteer you can be sure a project is a "good fit" for you.
Volunteers who register with SciStarter and create their participant profile have the added benefit of using their SciStarter account to join new, affiliated projects without creating yet another login — and yes, this DOES include our Mappers and Image Detective projects. For anyone who has already registered on CosmoQuest and has been participating in our projects, don't worry — once you create your SciStarter account you can easily link it to each project on its respective SciStarter information page and then continue logging in to it with your CQX credentials as usual — SciStarter will automatically track your progress without your having to do anything special.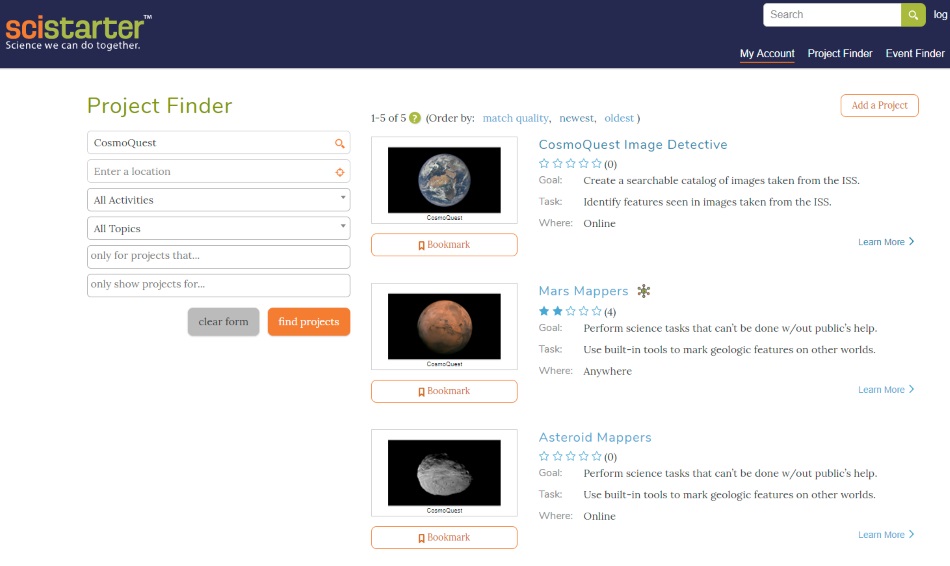 By using your SciStarter account, you help to provide SciStarter researchers with data that are used to achieve THEIR research goals, so you are in effect participating in two citizen science projects simultaneously! What could be better? Want to learn more about SciStarter's own research? You can find out more by going to https://scistarter.com/research.
To get started with SciStarter, simply go to https://scistarter.com and click on "sign up" in the upper right-hand corner. Once you have registered and completed your profile, in addition to finding the CosmoQuest projects and checking "I have already joined this project" when applicable, have a look around for OTHER projects that pique your interest for which you can volunteer to participate.
In addition to marking craters or being an Image Detective, be sure to check back with SciStarter on a regular basis — new projects are being added all the time!
Now let's do some science!