It is with an extremely heavy heart that I share the story of our friend and longtime supporter of CosmoQuest, P.G. Holyfield. Author, podcaster, and all around awesome dude, P.G. was only recently diagnosed with cancer. It has rapidly spread and there are only days, maybe even hours, left. (Update 8/21: Apparently it was only minutes after I'd finished writing this and gone to bed. P.G. passed away at 11:20 EDT last night.) Pamela is with him, his family, and many wonderful friends taking care of him around the clock, giving her heart and soul to make his final days as joyous, peaceful, and as full of love as possible. They've been sharing messages of support from the many, many of us who love him but can't be there in person, and that is amazing.
His family could use your help, as well. As explained over on the GoFundMe page started by his friends, this illness came on so suddenly. They are raising money to help alleviate the medical bills and, well, the funeral costs which are imminent now. Plus, they are hoping to set some aside to help care for his daughters after he is gone. If you can give, or at least share the link, please do.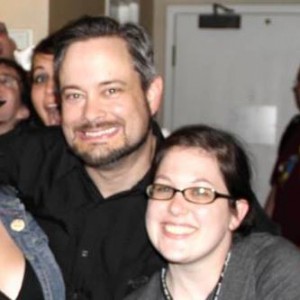 I not even sure at which convention I finally got to meet P.G., after hearing about his work and reading his novel, Murder at Avedon Hill. He invited me to join in on a fun, virtual convention celebrating podcast authors called "Tuacacon," and I just had a blast talking science and fiction with him. After I told him I was a fan of his book, he sent me an autographed copy and mouse pad to my office. That mousepad replaced my Mulder and Scully one, and those of you who know my obsession with X-Files KNOW what that means.
P.G. is a guy who is curious about cool things, so much fun to talk with, and all around good guy. I'd only get to see him a few times a year at certain conventions, like I do with many of my friends these days, and I know there's always going to be good relaxing fun with him around.
Over at SpecFicMedia, he and a few other podcasters have been sharing their love of Game of Thrones on "Beyond the Wall." I spend every Wednesday night that I can after an new episode of Game of Thrones watching and commenting on their Hangout on Air discussing the episode, giving me a new appreciation for the show and the books. For all the Hangouts we do here, I have to admit that's the ONLY show I watch consistently as an audience member. They are so much fun. I was super-delighted to have them on the first Hangoutathon with us where we debated the potential astronomical origins of GoT's messed up seasons! P.G. generously donated proceeds from their merch sales to help us out, and I know he worked with Pamela on a few grant proposals, brainstorming how to bring yet more science to people using the talents of podcasters.
I think Matt Wallace says it best, so I'm going to just quote him here.
There's no "cause" here, folks. There's no battle. I'm just asking you to add the guy, in some small way, to your consciousness. Be aware of him. Be aware of the cool stuff he helped create and gave to fans and authors and creators like him. Give him a tiny spot in the lexicon. Remember him and/or some little thing he did that you thought was cool. He deserves it.
It would be a nice thing and make all the difference in the world to him if you took a few minutes out of your day to know who he is, what he did, and help him and his family.
Thank you.