If you're working on a Mappers project you may wonder if you can go back and see your data. Well, you can! We've mentioned in several places that we don't let you go back and change your marks since we want an honest assessment of someone's markings as they are working, without second-guessing. But you can go back and see what images you've worked on, what images others have just finished, and check your marks against those of other users.
From any of the Mappers intro pages, whether for Moon, Asteroid, or Planet, you see a box labelled "Galleries" over on the right. Click that to get to the respective image galleries for each project. If you are signed in, it will show two rows of images: the top are the most recently marked images and the second are the ones most recently marked by you.
My example here shows that some users have been shown images that have not yet been looked at by very many users yet. However, I've recently been working on images that have been looked over many times, but we know from the recent study by Robbins et al. that having many people look at each image is key to accuracy.
If I click one of my images, I can see all the crater marks made by me, the other users, and the average of these. The check boxes on the right let me control what I see, so I can dig deeper. My comparison of how my marks match up against the average, I can see how I'm doing with respect to the rest of the Mappers all taken together. This isn't the same as comparing against the expert marks as I wrote about recently, but it is still a good overall gauge of how I'm doing.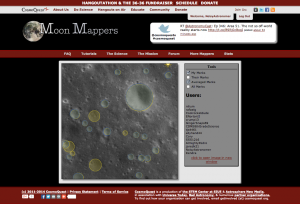 Just be sure not to trust the average marks as the "right" answer either! Your contributions help make them closer and closer to accurate reality, so don't just follow the crowd if you've been at this for a while and are pretty confident in your work.
Take a few minutes to browse through the galleries of your favorite Mappers projects today, or use it as a preview of a Mappers project that you haven't tried yet. Revisit your own work and see the catalogs come together through all your work as Moon, Vesta, and Mercury Mappers.