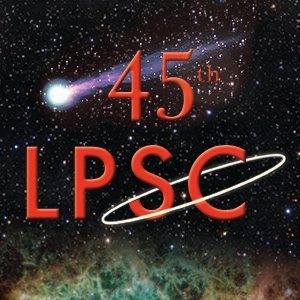 This week, the Lunar and Planetary Science Conference is happening in Houston, TX. You can follow all the great science coming out of the meeting by following the Twitter hashtag #LPSC2014. Some of our favorite scientists and science communicators are there, sharing out the results to be public, including Emily Lakdawalla, Sondy Springmann, and Stuart Robbins.
Already this morning, we've heard about Vesta's impact history, large craters on Mars, and Titan's hydrocarbons. And this is after all of Twitter decided it wanted to go to Titan after last night's episode of Cosmos. There is bound to be more to come.
CosmoQuest is represented at LPSC as well this week. Stuart Robbins will be presenting the MoonMappers results that went live last week showing that YOU, yes, you fabulous crater markers are doing just as well as the experts at identifying and measuring craters. I hope that makes you feel a little more confident as you move through those images, contributing to science. You can read the conference abstract here (pdf). Pamela Gay also has a poster up about the backend of CosmoQuest, the Citizen Science Builder, which has facilitated this lunar science, hosts the current Vesta and Mercury projects, completed the Ice Investigators project, and is ready for yet more science that you want to feed it. Read that abstract as well (pdf).