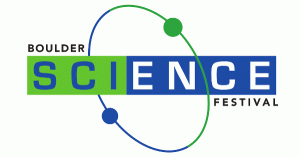 Love science? Will be in the Boulder, Colorado, area in October? If yes, then you definitely want to check out the Boulder Science Festival on October 12-13!
This celebration of learning about the Universe around us is being put together by Phil Plait and Marcella Setter, who graciously sat down with us on Learning Space to talk about their company, Science Getaways, which lets you take your brain on vacation. There will be talks, hikes, and a "science carnival" with music and activities for all. I'm making a comet with dry ice! Well, probably a lot of comets, as long as the materials last. Early registration ends September 16, and there is a student discount available. This event comes on the heels of the Great American Beer Festival in Denver, so come on over after that event.
Boulder has always been one of my favorite places to visit, with stunning mountain views, a lovely pedestrian mall, and lots of science centers. Also, you can get guacamole on a burger just about everywhere and the brewries are top notch! So, please join us if you can, because it's going to be quite a weekend.