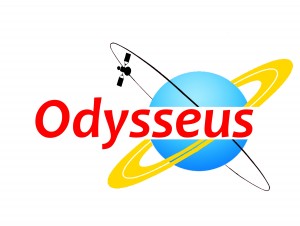 Good teachers are always on the lookout for projects and activities that engage and inspire their students. If you're a science teacher, you're probably aware of things like the Intel Science & Engineering Fair, the Google Science Fair, Botball, the First Lego League, Science Olympiad, and, of course, citizen science projects like CosmoQuest! 😉 These projects—and many others—give students a chance to experience one or more aspects of authentic science. Students work together to solve problems, ask and attempt to answer questions, design and perform research, collect and analyze data, program robots, interpret results, create and test prototypes—all in a collaborative and competitive environment. SCIENCE!!
Well, if you're a European science teacher, here's another cool project to add to your list:  Odysseus! Co-founded by the European Commission, Odysseus is a pan-European contest for secondary education students focused on space exploration, specifically the three themes of Solar System, Spaceship Global Cooperation, and Co-Evolution of Life.
The contest is open to students 14-18 years old who can create a team and find a teacher-coach.  The team then develops a project around one of the three themes. The project should showcase the teams' intelligence, creativity, and innovation. All the details may be found at the Odysseus website, including a library of resources and educator materials.
Of course a contest must have prizes, and Odysseus has space prizes! 😀  Four teams will get a free trip to the Space Expo in the Netherlands in April 2013. While there, the teams will tour the exhibition and meet with astronauts, scientists, and other contest participants.
So, EU educators, here's your chance to help your students get inspired by SCIENCE! Find yourself a team of young space enthusiasts and get innovating! (And spread the word… posters and brochures are here!)
**Deadline for entries:  15 January 2013**