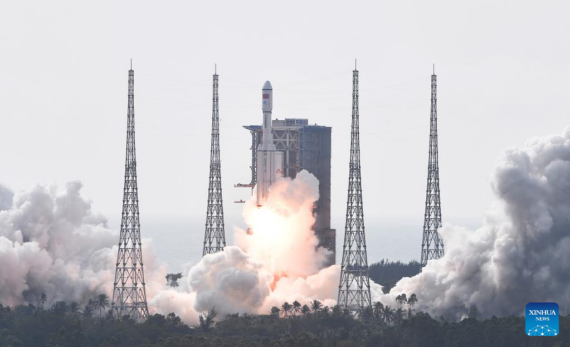 To wrap up the posts that would have been on the Daily Space last week, a report on 3 Chinese rocket launches.
China also launched a series of rockets. The first was a meteorological satellite called Yunhai 3 on a Long March 6A. The 6A is a major upgrade of the 6, with a new second stage and addition of large solid boosters.
The 6 and 6A are still new rockets, and this was only the second launch of the 6A. New rockets can have problems, and this one did. At least it waited until after payload separation. When the second stage was venting down its propellant and battery chemistry to avoid becoming a hazard in LEO, it exploded, shedding over 50 pieces of debris above and below its 850 kilometer orbit. These pieces will remain in orbit for centuries.
⇐===== SLIDE CHANGE =======>
In much happier news, four hours later the fifth Tianzhou uncrewed resupply spacecraft to the Tiangong space station lifted off on a Long March 7. It successfully docked to the station just two hours later, the fastest rendezvous to a space station by over an hour.
⇐===== SLIDE CHANGE =======>
The final Chinese launch this week was another routine one. A Long March 3B successfully delivered the Chinasat 19 satellite into geostationary transfer orbit.
Yunhai 3 and its rocket explosion