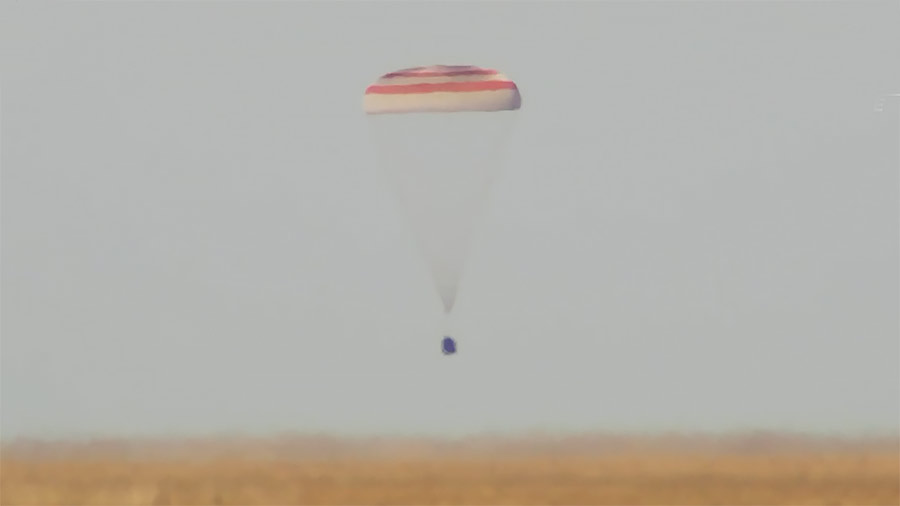 Late Wednesday night, the crew of Soyuz MS-21 packed up their spacecraft and undocked from the International Space Station (ISS) after a several-hour-long leak check. The moment of undocking marked the beginning of ISS Expedition 68, commanded by ESA astronaut Samantha Cristoforetti.
After several more hours coasting away from the ISS – because you really don't want to fire a rocket engine near the station – the Soyuz conducted its deorbit burn. This burn lasted for five minutes, after which Soyuz separated its Orbital and Service modules and oriented for reentry.
One hour later, the capsule landed on the cold steppe of Kazakhstan, a few hundred kilometers from the town of Zhezkazgan. All Soyuz capsules and other Soviet/Russian recoverable capsules have landed in this area.
The all-Russian crew of Soyuz MS-21 returns after 195 days in space. Two of the members completed their first flight into space, and the last, Oleg Artemyev completed his third. Artemyev and cosmonaut Denis Mateev conducted several spacewalks together to prepare the European Robotic Arm on the Nauka module for operations, with Artemyev doing 33 hours across five spacewalks and Mateev 26 hours across four. Sergei Korsakov did not perform any spacewalks during the mission.
With this successful landing, there are again eight toilets and seven humans in space, though it will be back to nine again shortly once SpaceX Crew 5 launches. That launch was expected on October 3 but has been delayed as KSC is experiencing the impacts of Hurricane Ian. The Falcon 9 rocket and Crew Dragon capsule for that mission are both safely inside the Horizontal Integration Facility at 39A, which is built to survive the expected conditions.
More Information
Three Soyuz Crewmates Return to Earth, Finish Station Mission (NASA Blogs)