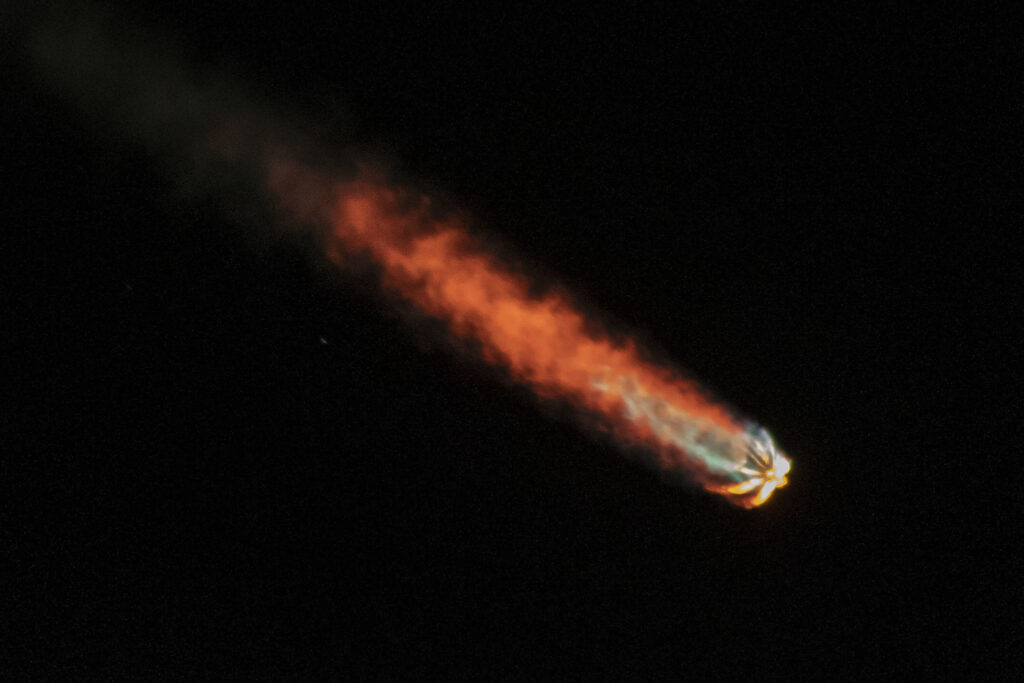 In a sign that the seasons have finally changed, SpaceX launched their latest Starlink mission from SLC-40 on the space coast on the 5th attempt. The mission was aborted just before launch several times due to weather and barely escaped Earth on September 19 in between storms. We at CosmoQuest hosted live watch parties on Twitch for several of the attempts and were relieved when it finally lifted off.
The Eastern Range Weather Officer predicted a 60% chance of violation of weather constraints for the attempt, but Starlink 4-34 made it! And just in time, because Hurricane Fiona is in the Atlantic and could have kept the mission on the ground even longer.
Launch weather constraints are very important for rockets to safely deliver their payloads. Flight through possible lightning conditions is the most significant factor, as a rocket getting struck by lightning can cause damage to its structure and computers, causing control problems. Flight through an area of rapidly changing wind directions, known as wind shear, is also important to avoid as this can also cause control problems, especially for the very tall and thin Falcon 9 rocket.
Active weather systems that lead to violations are often present during the Atlantic hurricane season which runs from June to November and is most active in September, so it is unsurprising that this launch had so many aborts. Those in the online space community have taken to calling this month Scrubtember… and next month Scrubtober.
We'll see how all this weather bodes for the next launch attempt of NASA's Space Launch System, currently set for no earlier than September 27. As of press time they have not received the critical waiver from the Range about the batteries in the rocket's flight termination system. The Range does not budge on public safety, and it is unlikely that NASA will get the waiver. This will delay the launch into October as the rocket must be rolled back into the Vehicle Assembly Building to replace the batteries.
But I digress…
In case you are confused by SpaceX's bewildering and ever-changing designations for their internal Starlink missions, this was the sixty-first launch of Starlink satellites since May 2019.
While it's not Friday, here are some statistics. Booster 1067 completed its 6th flight by landing on the drone ship Just Read The Instructions after sending the second stage on its way to orbit. This was the 135th landing of a Falcon 9 first stage, 96th launch from SLC-40, and 180th SpaceX launch overall. SpaceX continues to break their own record for launches in a year, this was the 42nd.
The 54 Starlink satellites were deployed into the standard slightly eccentric deployment orbit after one burn of the upper stage. Later on in the mission's very first orbit, the Falcon 9 second stage turned around and sent itself into the Pacific Ocean south of Australia.
More Information
Starlink mission page (SpaceX)