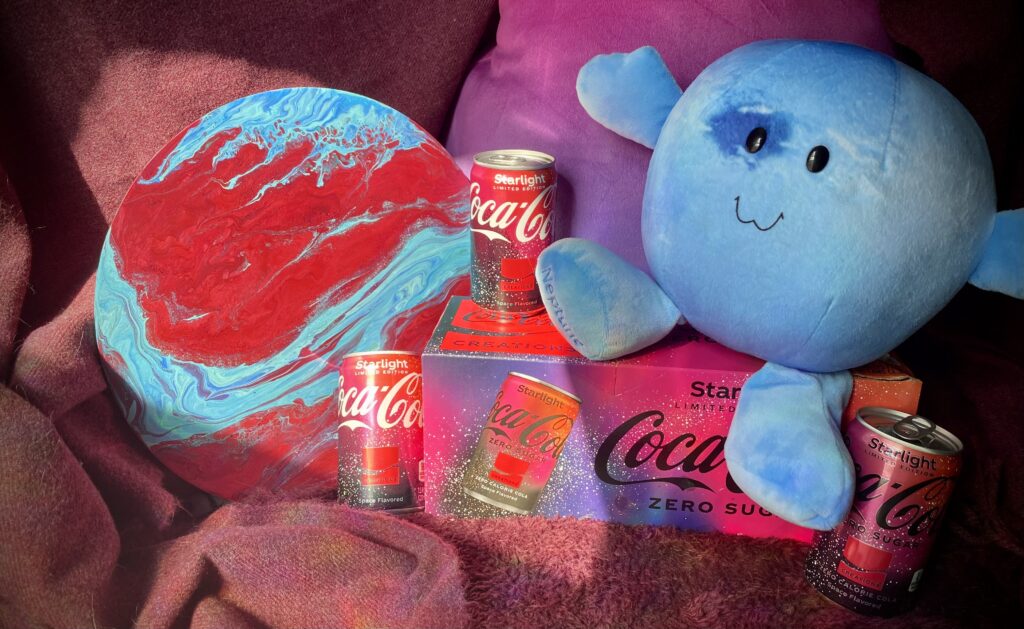 Because we are doing a special show tomorrow about the Ukraine-Russia war, we are bringing you our usual review today. And today, well, we wanted to bring you joy, so we bought you a Coke.
Well, really, we bought ourselves a Coke. Specifically, TinyIntern and I each tried the latest special release from Coca-Cola — Starlight Coke. Per the very lovely cans, decorated with a bubbly-yet-starry background, these new versions are "space" flavored. [Ed. note: CosmoQuest received no compensation for this review and paid for the product out of pocket.]
Now, if you like me were thinking, "What? Does it taste like burnt steak?", the answer is no. No, it very much does not. To me at least, it tastes like some sort of sweet berry-flavored Coke, while Tiny describes it as "Coca-Cola Code Red." It's slightly unusual but good!
Per a press release from Coke: Its taste includes additional notes reminiscent of stargazing around a campfire, as well as a cooling sensation that evokes the feeling of a cold journey to space.
I'm not entirely sure how that tastes like space, but we can at least confirm the campfire stargazing tie-in, via Tiny's experience. It may be a brand-new take on Coke's classic flavor, but she likened the campfire notes to the "heady, smoked foundation of an excellent old-fashioned — albeit, one without the alcoholic bite of the classic cocktail."
On top of a limited-edition flavor, Coca-Cola wanted to make this release even more out-of-this-world, so they've added some augmented reality (AR) features that you can access by scanning the can or bottle. While I could use the QR code to get to the website, launching the actual AR experience didn't work for me. I could, however, get the ASMR to work, so if you're intrigued by sitting and listening to the sounds of soda fizzing away in a glass with ice and some background space noises, have fun!
In the meantime, we intend to enjoy what's left of our 7.5-ounce cans. It's a cute serving of a cute soda. Could we really ask for more?
More Information
Coca-Cola launches 'Starlight' limited-edition drink inspired by space (Space.com)